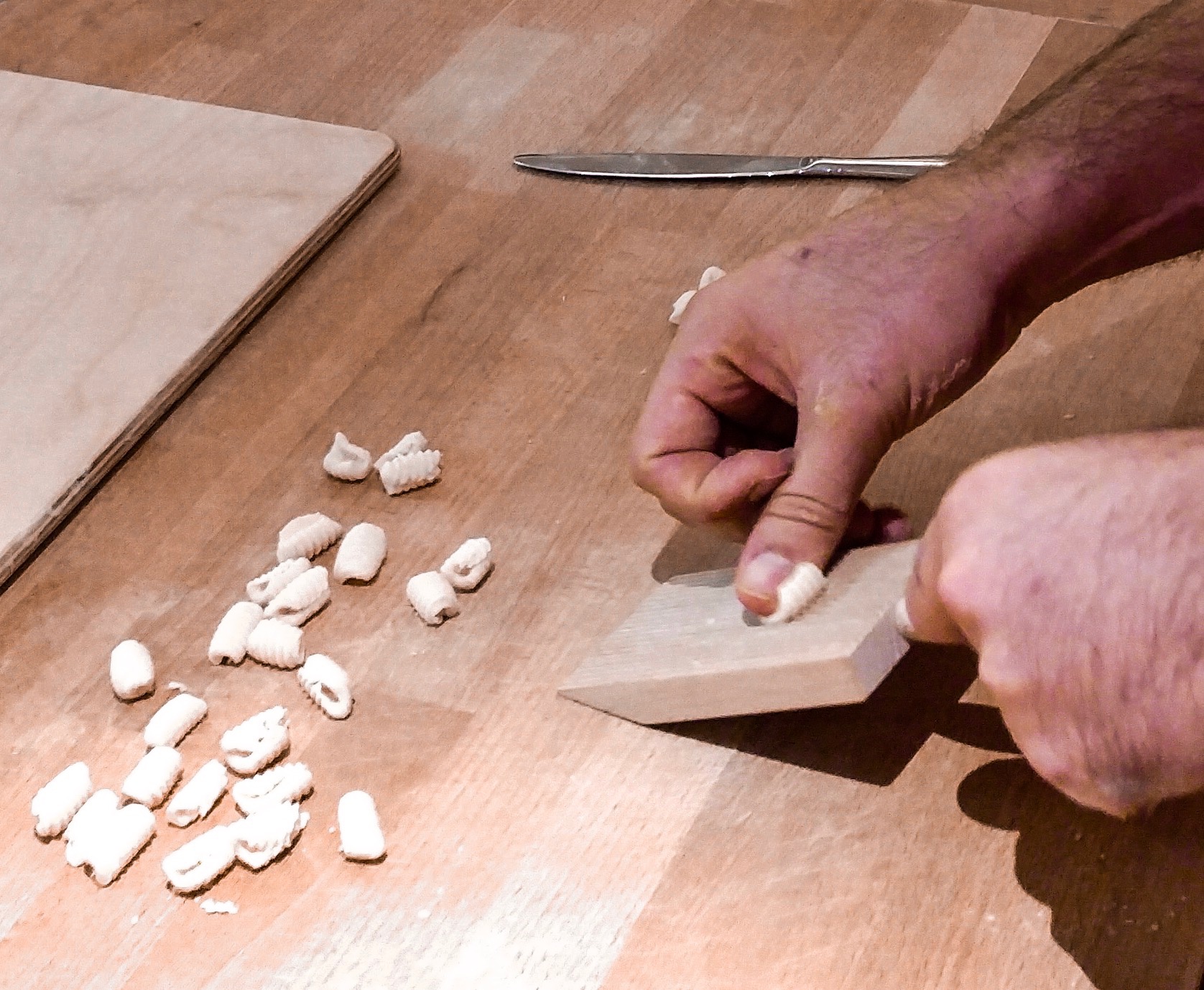 W

e have been to Rome a few times and had quite different experiences every time. Some trips we LOVED it, some where just okay. Knowing what we know now, I think the next time we go will be the best one yet. Some of the "tourist" things are amazing and some just kinda suck, but over all, we're always Italy fans!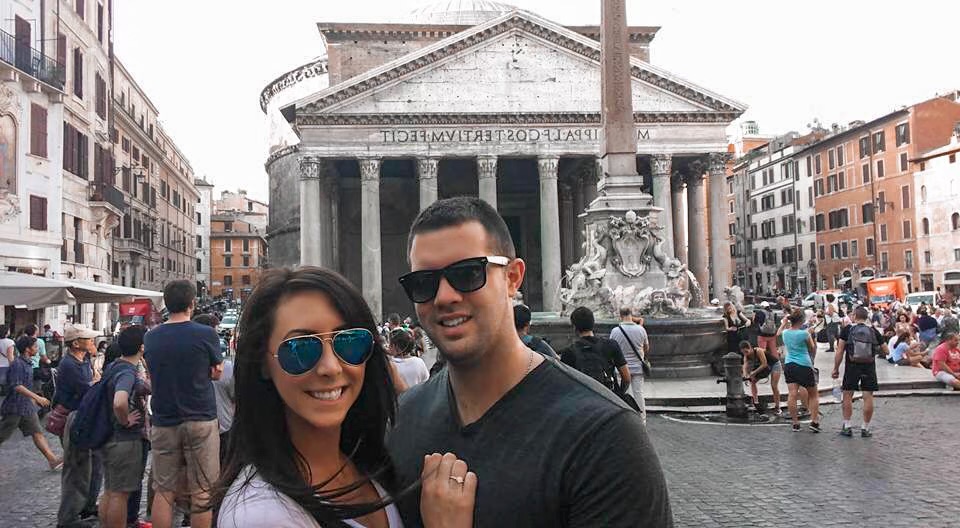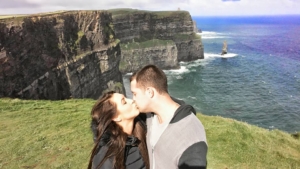 Our love for adventure brought us together, but our views of the world, and similar goals in life, will keep us enjoying each day together, for the rest of our lives. Here's to a lifetime of adventures!
This error message is only visible to WordPress admins
Error: API requests are being delayed for this account. New posts will not be retrieved.
Log in as an administrator and view the Instagram Feed settings page for more details.
Best Food in Rome:
Food was our biggest hit or miss in Rome. (we have been there both pre and post vegetarian days so I feel like we got a good census of it all!) While the gelato and wine never disappointed,  some of the pasta dishes did. On our first trip to Rome back in 2015, we had super high expectations. It was our first time in Italy all together and we were expecting massive portions and every bite to wow us. It just didn't happen. While some of the dishes were good, it was nothing to write home about. Even the portion sizes weren't the best. I mean it was normal sized but we were just expecting the gigantic plates like you hear about Italians serving. Our biggest disappointment tho, was that pretty much every restaurant you go to has the same menu. It was all very touristy. But that was the area we were in. The following trip we branched out a bit and moved away from the city center. Not by much, but we found the food to instantly get better. Instead of solely eating at restaurants we walked by, we took a cooking class and went to the local markets and cheese shops. This is my biggest recommendation! Get your morning coffee by just walking around and maybe a snack or two, but get your big meals further away from the hustle and bustle. Make a point to walk into a cheese shop and ask them what they recommend. Try the buffalo mozzarella cheese! My mouth is watering at the thought. If you are at an Airbnb, grab some ingredients from the local markets and cook up your own dish. I never wanted to cook my own food on vacations but you just can't get the fresh tomatoes and mozzarella like you can there. A simple tomato sauce is bursting with flavor even without any seasoning. The extra walking and time away from the masses, will be worth it, I swear!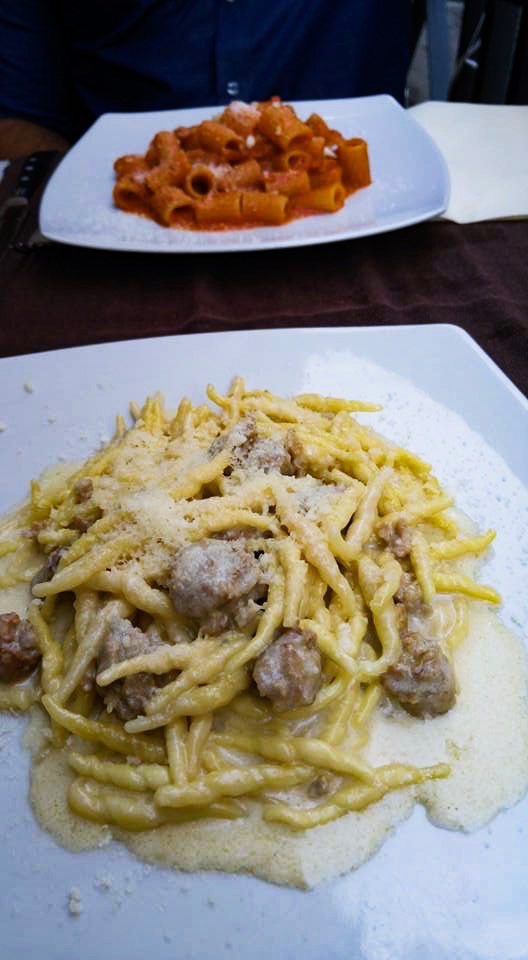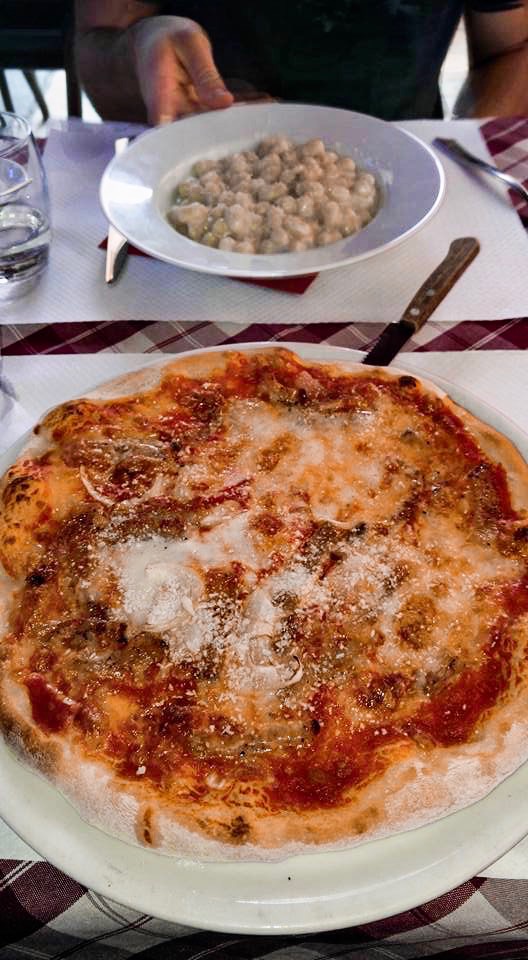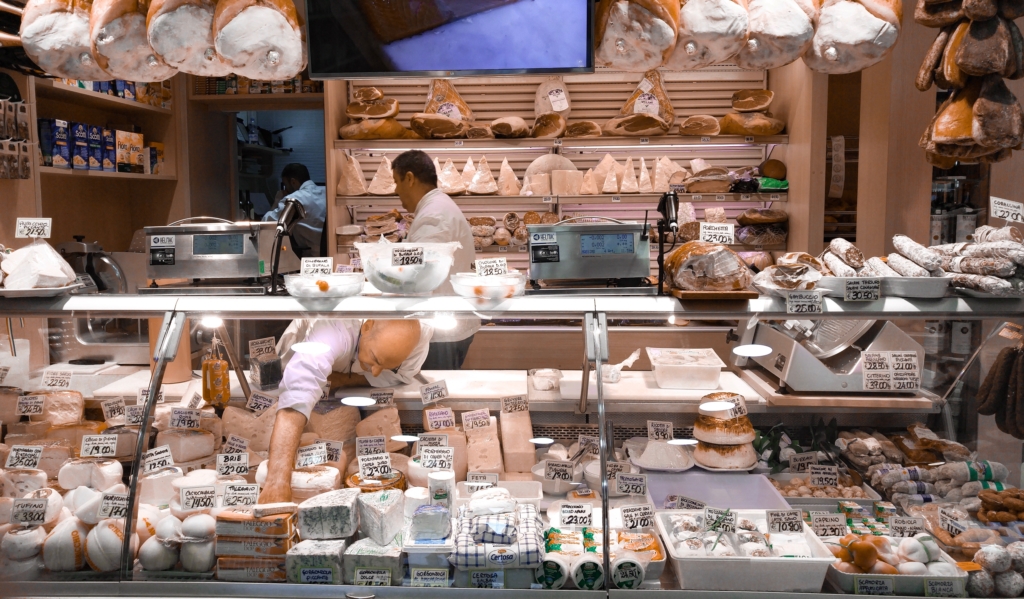 Where to Stay in Rome:
Norwegian Cruise Lines: One of our trips we were on a cruise! Although we enjoyed the cruise itself, it made experiencing Rome a bit difficult. The port is about an hour away from the city center of Rome. We were on quite a time crunch to do everything we wanted to and still make it back on the ship in time. Thankfully, we had been to Rome in the past so we skipped seeing all the typical tourist attractions. Even so, we cut it a bit too close and literally RAN, (straight up sprinted, not jogged) to catch our train back to port so we didn't miss the boat. We actually were contemplating not even trying to make it and just taking the train to Florence the next day to pick it up there. Made it tho, no worries.
Hostel Mosaic: As far as hostels go, this was a pretty good one. We opted for a twin room so it was just the two of us. The room was great! It had shutters that opened and over looked the street! Gave us the Italian feel. The bathroom was right outside our room which was nice. Unfortunately, there is only one bathroom on that floor so if another person was in it, you were out of luck and had to wait, or go and get buzzed onto a different floor. Overall we found this to be a decent hostel. We would go back.
 Pros:
Clean

Good Location

Will hold bags for you before check in

24 hour front desk
Cons:
Check in wasn't until 3pm

2 separate times we had someone banging on our door, waking us up, and yelling in a different language (we still don't know why or what the heck they saidl)

You have to be buzzed onto your floor, and a few times no one was at the desk to buzz us in.

Only one bathroom on each floor, no stalls. If another person on your floor was in the bathroom, you were out of luck.
How to Travel in Rome:
I wouldn't necessarily call Rome a hard city to navigate, it is just a large city. It's not like a city where you can just get to the city center and walk everywhere. (I mean you could, but its A LOT of walking!) The Rome Metro is a great option is see all the sites without your feet falling off. It is a pretty small metro system and pretty easy to read which line you should be on. You can also interchange the Rome Metro with the Local Lines (1,2,&5) to get to and from the airport and cruise port. On any train you take always make sure you get your ticket verified if need be BEFORE boarding the train to avoid a large fine. Usually that just means finding the smaller ticket machines around where you purchased the ticket or where you board the train. Taxis are also an option but can tend to get pretty pricey if you are taking them all over. Uber is an option but is not as readily available.
The way we took
Hotel Shuttle Bus. I think it cost us about €16 a person? When we landed in Rome Fiumicino Airport we got tickets for the Airport Hotel Shuttle in the Airport down where the transportation section is. The trip was comfortable in a big shuttle van with 3-4 other couples in there as well. The van stops at each hotel of the passengers to get off. It was nice that it was a direct trip and did not have to walk or transfer into a taxi after arriving in city center. FYI: You are limited on the amount of bags you can bring.
_________________
Options
Rome Fiumicino Airport to City Center:
Leonardo Express Train: Roughly €14. Takes you about a half hour to get into the city center of Rome. Train is right at the Airport (Follow signs for train) and brings you to Termini, the city center station. After you get your ticket you still but VALIDATE them before getting on! It is a smaller machine and sometimes has a worker standing there to help you out. After arriving at Termini, you can either take a taxi or walk to where ever you are staying.
Terravision Bus: €5.80  one way or €9 round trip. Non-stop from Airport to Termini, the city center. Trip takes about 55 minutes.
Train:
No matter what city you are coming from, get off at the Termini Station for the city center.
From Cruise Port:
To get anywhere from this port is a bit of a haul and has a lot of moving parts! If you are not up for connections, keeping your eye on time, and the route you are taking, book yourself a transfer through the cruise line. Or find a private transfer/ excursion that says they pick you up AT the port. Any other form of travel will involve the train system.
Trains* The local train station is about 1.2 miles (2km) from the port. Upon exiting the ship, take the free shuttle bus to the Largo della Pace Bus. Then either €2 to take the Largo della Pace Bus to the train station. Or walk from Largo della Pace Bus station to Civitavecchia Train Station.(about 12-15 minute walk) GIVE YOUR SELF TIME. Once you board they wait for the buses to be full to leave.
Train to Vatican or City Center: F L 5 Local Train. About €5 pp/way. If you are going into the city center of Rome get off at Termini Station. It is about a 70 min trip. If you want to go to the Vatican, get off at S. Pietro (about 40 min train ride) and it is about a 15 min walk.
Train to Colosseum to avoid walking from city center: F L 5 Local Train. About €5pp/way. Get off at Ostiense Station (about 55 minute ride) and transfer to the Rome Metro Line B Blue Line. Get off at Colosseo.
Train to Trevi Fountain/Pantheon to avoid walking from city center: F L 5 Local Train. About €5pp/way. Get off at Ostiense Station (about 55 minute ride) and transfer to the Rome Metro Line A Orange Line. Get off at Barberini – Fontana di Trevi.
Train from City Center (Termini Station) back to Port(Civitavecchia): Trenitalia train to Civitavecchia. €5,  about and hour and 25 minutes. Then either take the €2 Largo della Pace Bus to the port and take the free shuttle to the boat or walk 15 minutes to the port and take the free shuttle to the boat.
When returning back to the ship GIVE YOUR SELF SO MUCH TIME. We cut it way way to close and we don't recommend. The Termani Station is super packed and you need to know what train you should be on BEFORE you get there because it is a madhouse. If it wasn't for a stranger coming up to us and pointing our frantic selves in the right direction we wouldn't have made it back to the ship.
Is It Safe in Rome:
We found it to feel very safe. We felt fine walking around at night and we felt no sense of concern. The locals are friendly and a lot seem to speck English. It is a beautiful city and we would continue to go back time and time again. One increased caution we felt needed to be taken was whenever in a big crowd or in a crowded line. City centers are known for pick pocketing so we just made sure to careful with our bags and when in a crowded place, Ryan always keeps his hands in his pockets. Thankfully, we have never had anything happen tho, and we can chalk that up to us always staying proactive on it.
According to the United States Gov Travel, Italy is listed as a Level 2 in Safety. (Click here to learn more.)
*With all that being said: you are still in a foreign country, there is increased terrorism in the world today, and tourist in general are known to be targeted in any country. To keep yourself safe always beware of large crowds, beware of groups coming up to you trying to get a petition signed, keep your money and valuables hidden from pick pocketers, split your money up so it is not all in one locations, have copies your passports both at home and with you. With any serious concern contact your countries embassy.*
Things to do in Rome:
Cooking Class: We put this first on our things to do because it was HANDS DOWN our favorite. In our household, Ryan is the cook. Well the good cook, the cooker of pasta, and pizza and breads, all the good tasting foods that are bad for you. He does homemade breads, and dough, the whole nine. He has been cooking his entire life, between working at restaurants or owning them. I cook, but like healthy foods. I am the cooker when we are eating healthy. So needless to say going into a Italian cooking class we thought I would get more out of this than Ryan did. Boy were we wrong. I don't know how, but this catered to the advanced and beginner cook at the exact same time. We made four different dishes (they accommodated us being vegetarians as well which was HUGE) and a desert. The small group met and the meeting place and walked to a local market and picked all of our own fresh ingredients. Then walked to the kitchen were we prepared then enjoyed all of our dishes. The food we made was so simple when it comes to ingredients. Very fresh, barely seasoned, but was the best food I have ever eaten in Italy any time or place I have been. We booked through Viator, and I linked the specific class we took!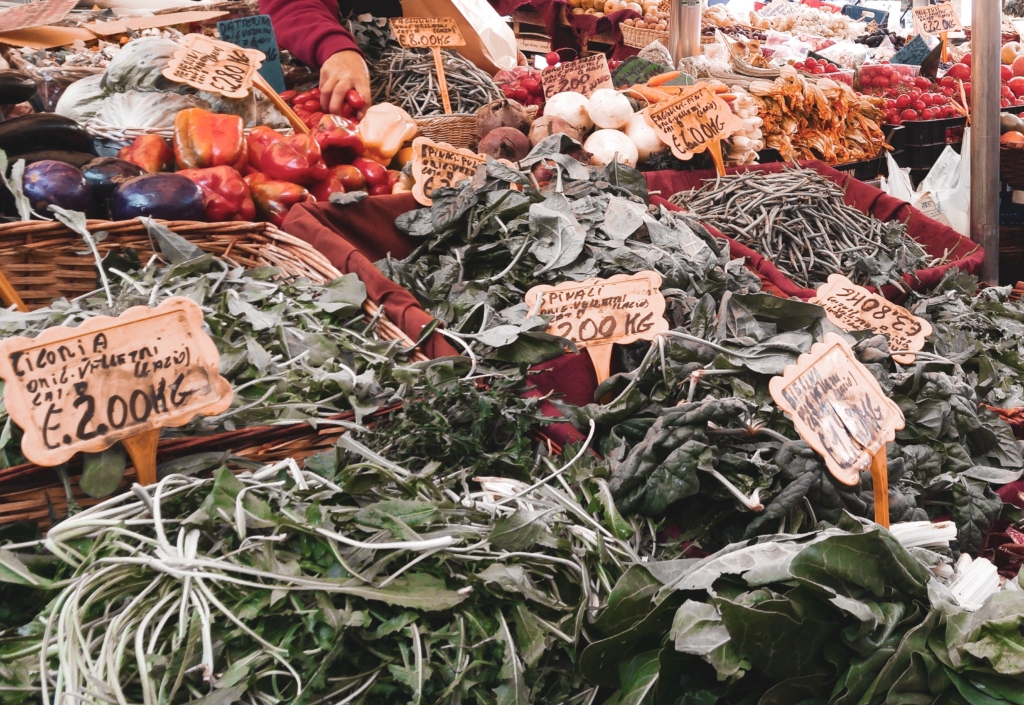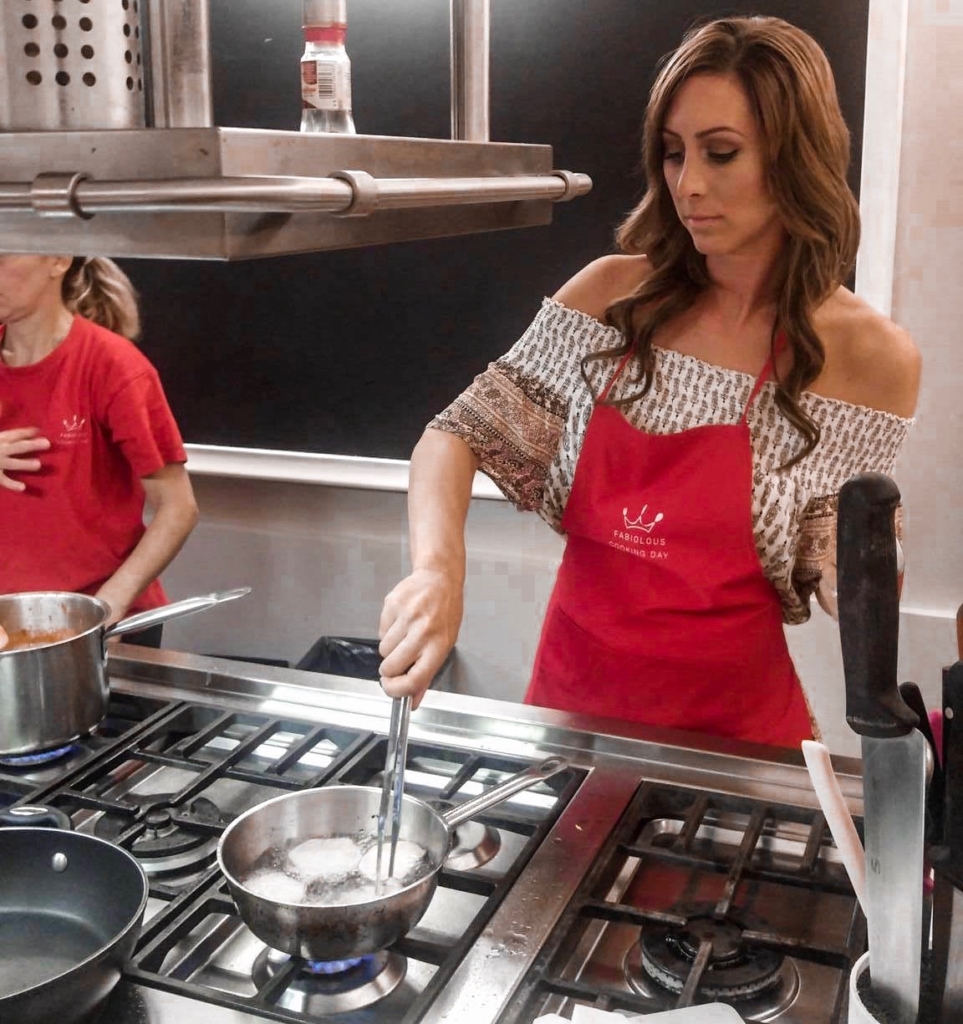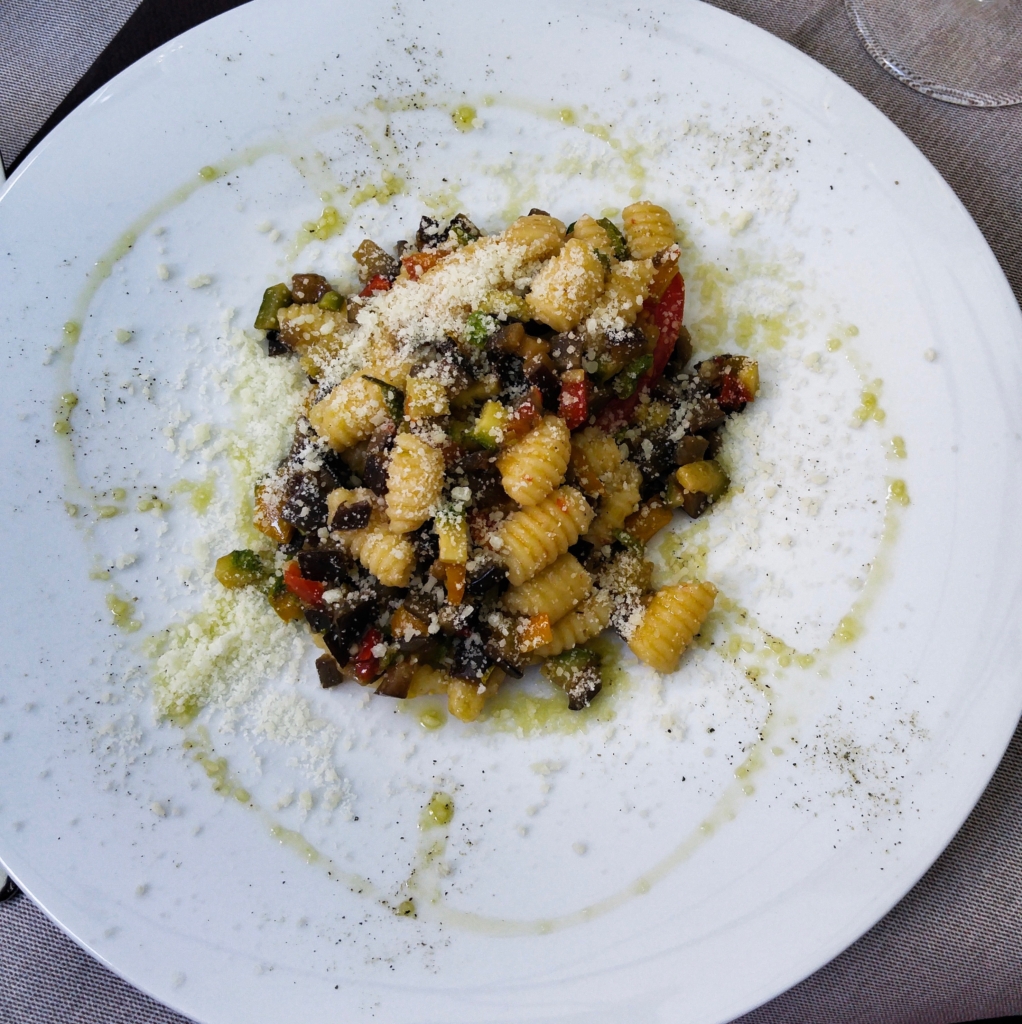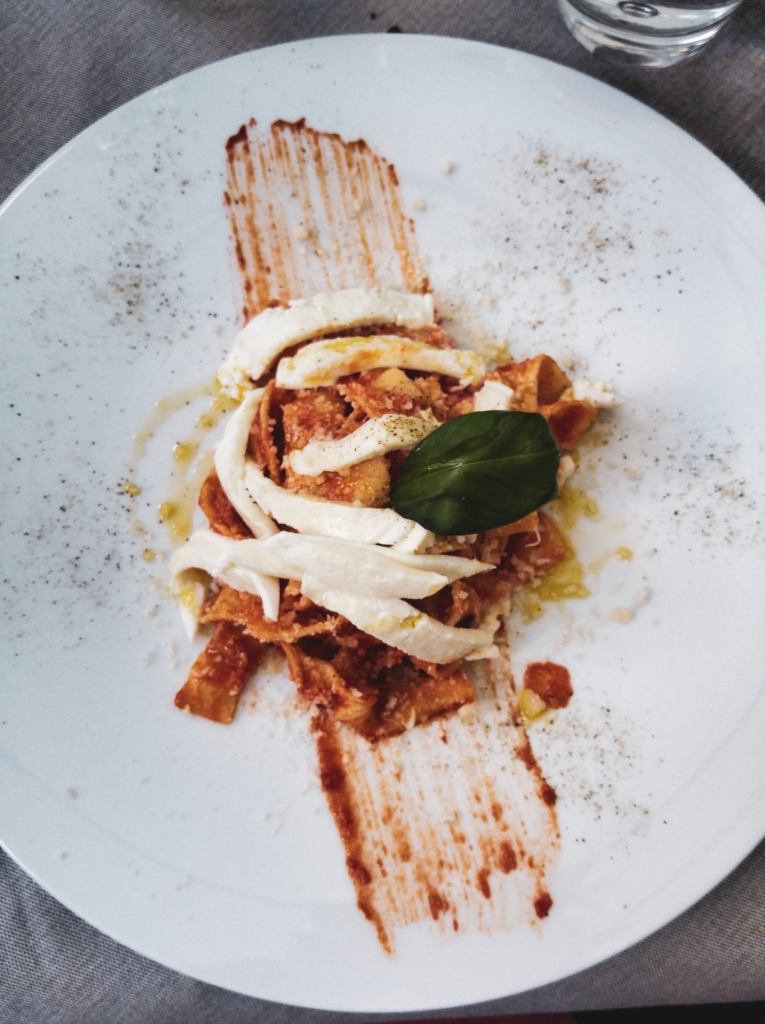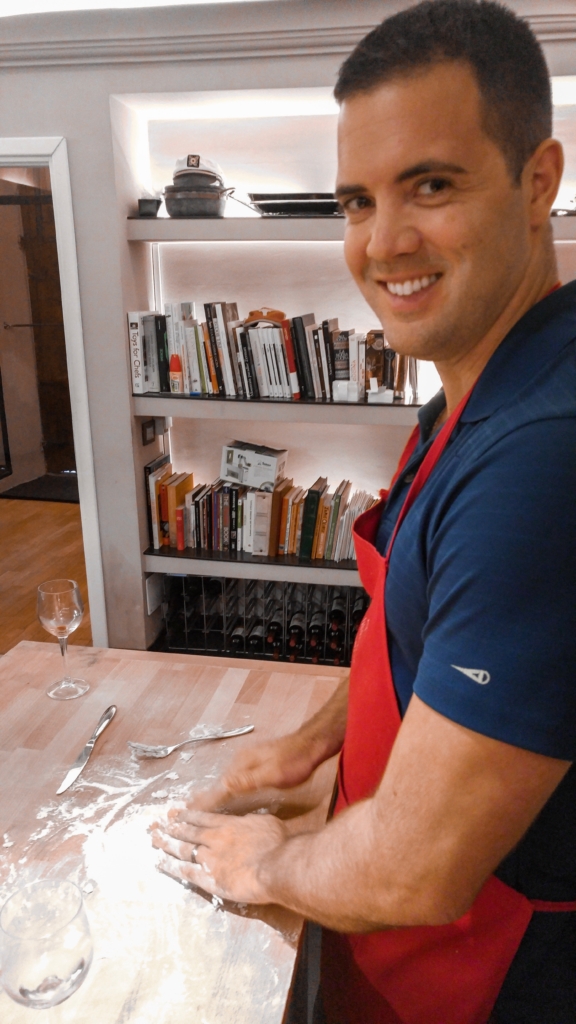 Colosseum, Roman Forum, Palatine Hill: I had seen photos, but they do not do justice. It is so much more powerful in person. We did not do a guided tour we just went on our own and I felt fine about it.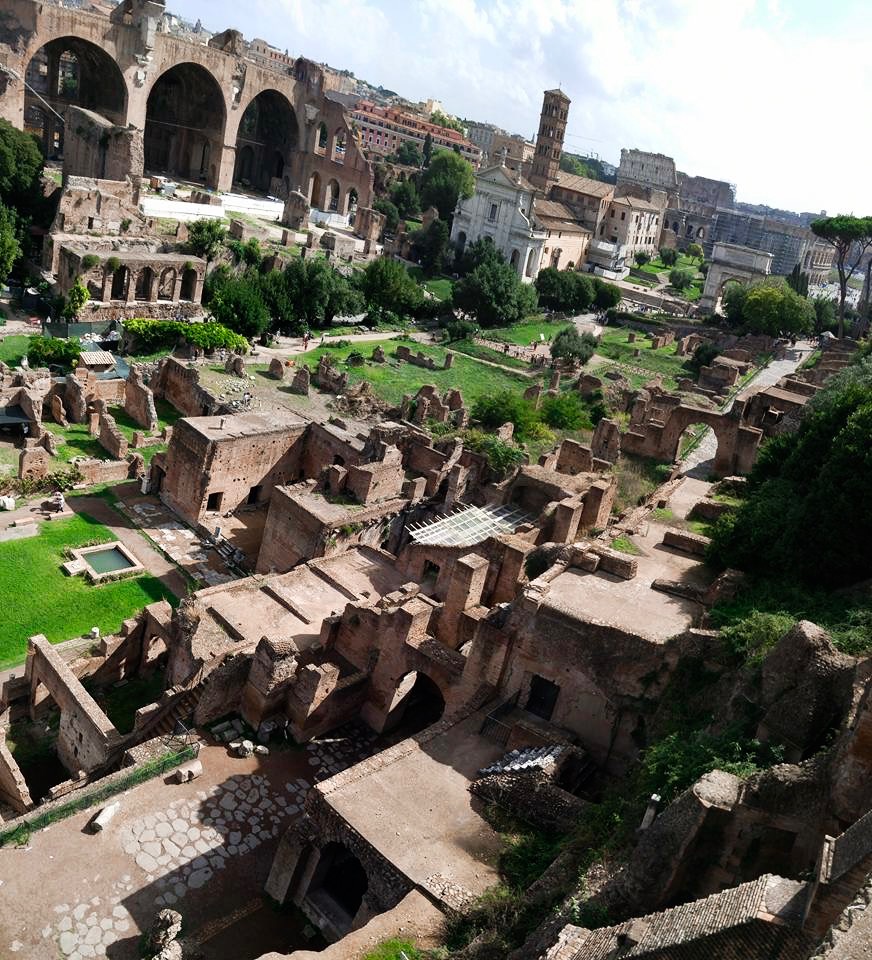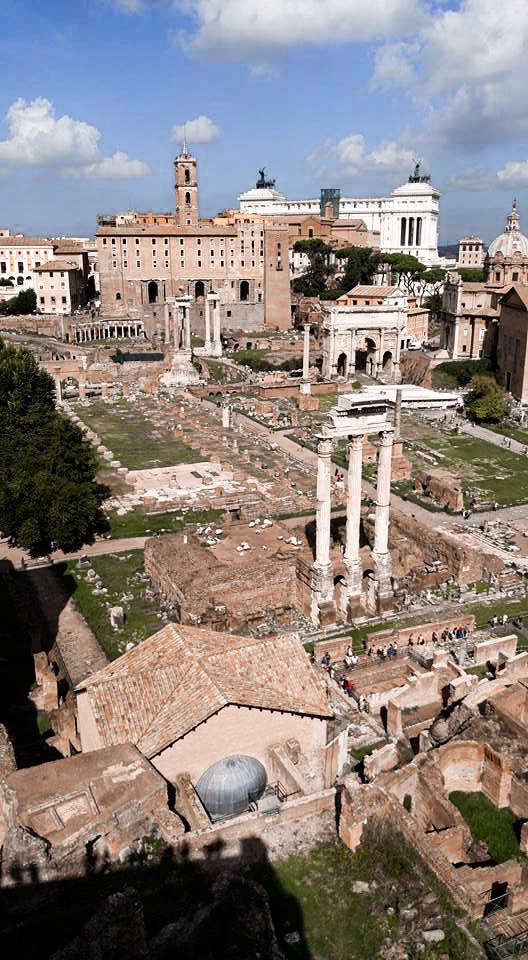 Papal Audience at The Vatican: We traveled to the Vatican on a Wednesday to see the Papal Audience where Pope Francis spoke. Weeks before arriving to Rome we had sent an email to The Church of Santa Susanna requesting tickets for the Papal Audience. When we received our response of approval, we were told to come to the Church of Santa Susanna to pick up our tickets that day before. We were also told to bring items and rosaries for the Pope to bless. It was a very simple process to both request and pick up the tickets. The Wednesday morning of the service we took the train to the Vatican super early in the morning. The seats for the viewing are first come first serve, even with the tickets, so the earlier you get in line the closer you will be. Only the first few hundred is seating, the rest is standing room only and holds thousands of people. (up to 80,000) We arrived at St, Peter's Square at 7am for the 10:30am Audience. There was already a massive line, but we jumped in and waited it out. Finally when the time came to open the doors, there was a massive rush to get to the front, people pushing and yelling to get the best seat. We were shocked! Did these people not know where they are? Thankfully we were close enough to the front of the line to get a seat because it was a hot September day and a very long service. The whole thing lasted about 4 hours. The Pope would speak in Italian and then have a seat, then someone would come up and translate it. This continued while the translated each thing into multiple (I'm talking like 6+) languages. The coolest part was when he drove around in his Pope Mobile through the crowd! Over all it was a long day but a very cool experience. We had just got engaged a few days prior so it was awesome to get my ring blessed by Pope Francis. Reminder: if you are planning a visit, keep in mind the dress code. Keep your knees and shoulders covered.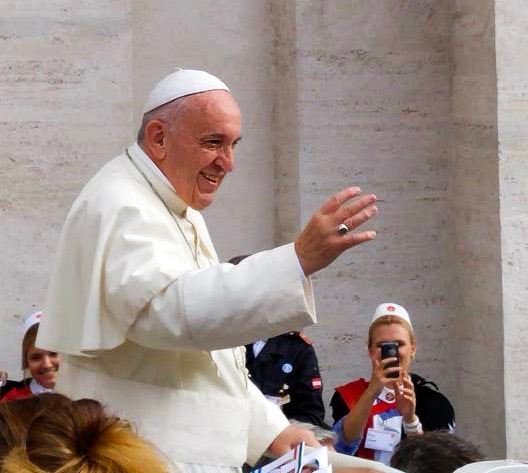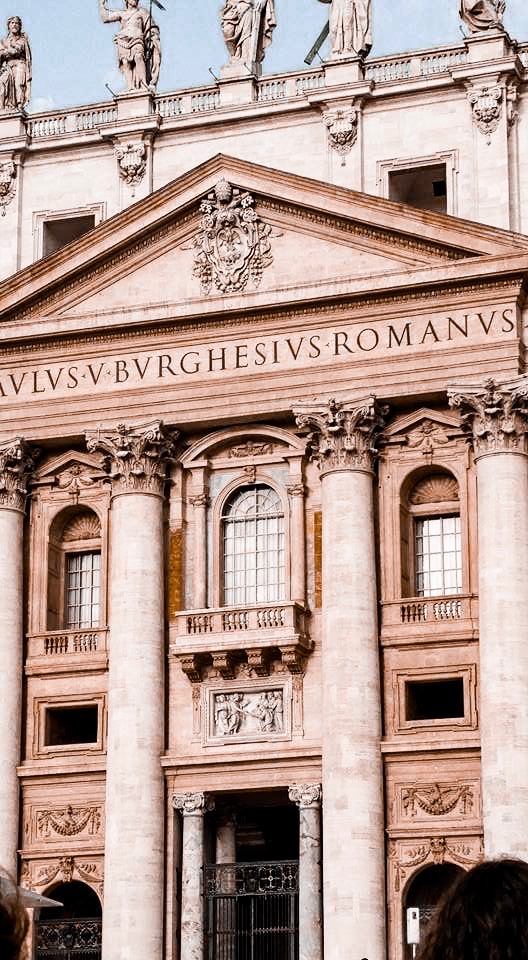 Pantheon: I don't know much of the history but good for a picture as you're walking by.
Spanish Steps: See above description.
Altar of the Fatherland: This is was really cool!
Arch of Constantine: We saw it in combination with the Colosseum.
Trevi Fountain: This is what I was most excited for! (thanks to the Lizzie Mcguire movie of my childhood!) Disappointingly, it was under construction during our visit, yet still an incredible site. We will for sure go again to see it fully active!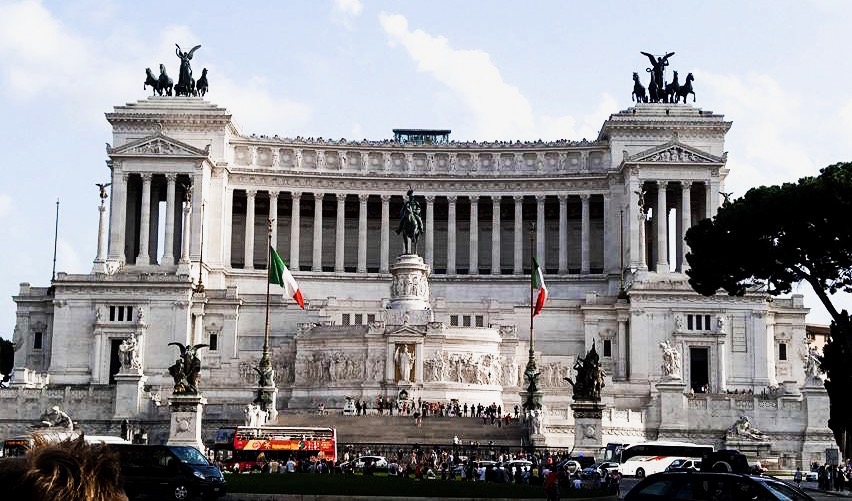 Drink Wine: Wine is literally the same cost as water.  You can drink it for breakfast it you want. I love trying all the local wines so I usually vote for the House wines or Prosecco.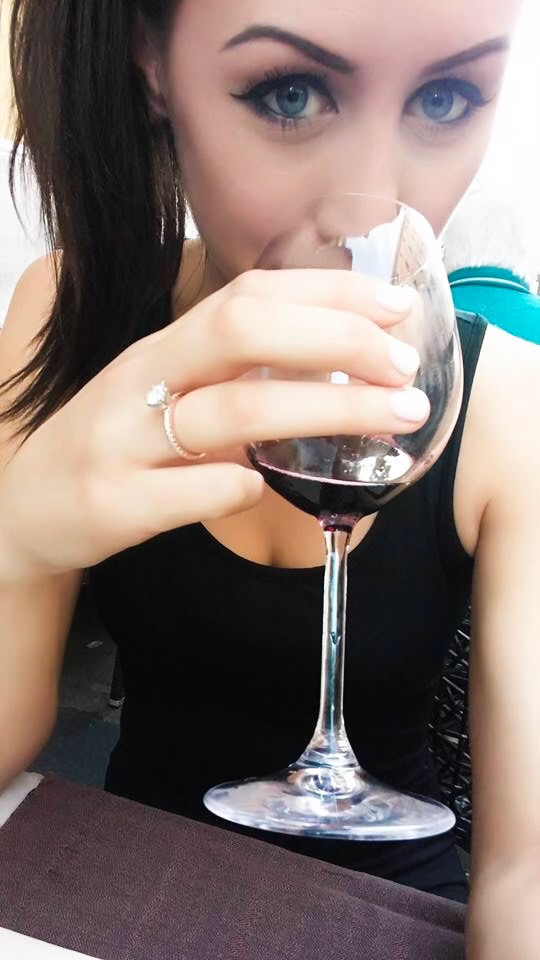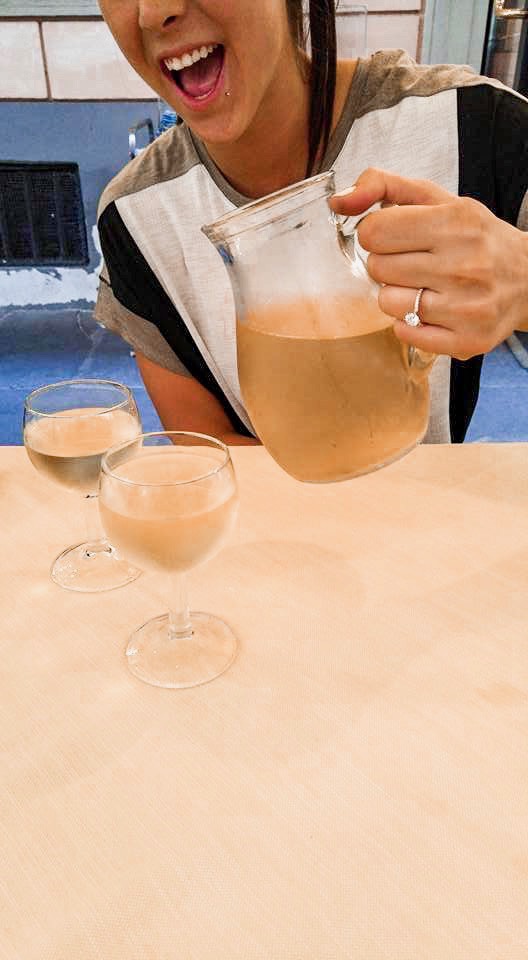 Travel Tips in Rome:
Electronics Voltage in Rome is 220. (America runs on 110)
Currency in Rome is the Euro.
Rome is extremely touristy and always busy. April-November is definitely the high season although the winter months can still be quite busy.
Uber does exist but taxis are used more often. Avoid both, use the metro! (but make sure you validate your tickets)
Know the Dress Code! The Vatican and other places have strict dress codes, keep your knees and shoulders covered.
__________
Europe is NOT the United State! If your'e an American like us:
Leave the baseball hat at home
Wear a more fashion forward shoe when walking around. A "gym sneaker" while not in the gym is a dead give away as an American and can make you a target.
Remember that just because it is different than the states, does not make Europe any less advanced of a country.
Food is made their way, not your way…..your'e in their country!
Remember to get a voltage adapter or compatible electronics.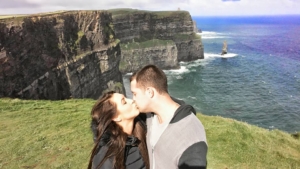 Our love for adventure brought us together, but our views of the world, and similar goals in life, will keep us enjoying each day together, for the rest of our lives. Here's to a lifetime of adventures!
This error message is only visible to WordPress admins
Error: API requests are being delayed for this account. New posts will not be retrieved.
Log in as an administrator and view the Instagram Feed settings page for more details.