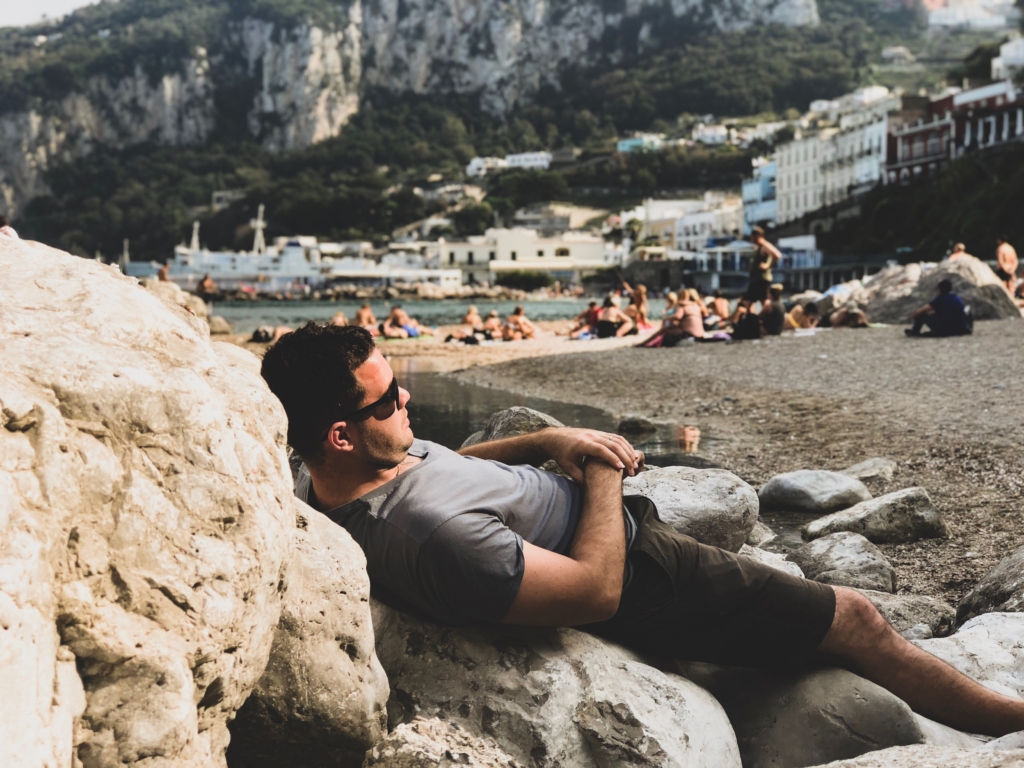 R

omance is the word that comes to mind when I think of Positano. Of everywhere we have been, this has got to be the most romantic place, perfect for anyone searching for a honeymoon destination or just an amazing trip with a loved one. From the views to the dinners, this is lovers  P a r a d i s e. 
We are the "on the move" type of people and don't exactly know how to relax so we found that our 5 days here was about 1 too long. (at-least during this time of year. If the weather was "beach" weather I would have taken one day to lay out and swim.) If you are the type of person that can kick back, lay on the beach for days, or under an umbrella and read, give yourself a long stay because of the time spent to getting here. If you're fast paced peoples like ourselves, you will most likely be all set with around 4 days. Also,
I wouldn't recommend as a "girls trip", family trip, or for anyone unable to walk about 2 billion stairs. (no really, there is nothing about the Amalfi coast that is wheelchair accessible. Even with taking the Local Interno Bus around you cant avoid walking hundreds of steps daily) For everyone else, grab your boo and book your flight!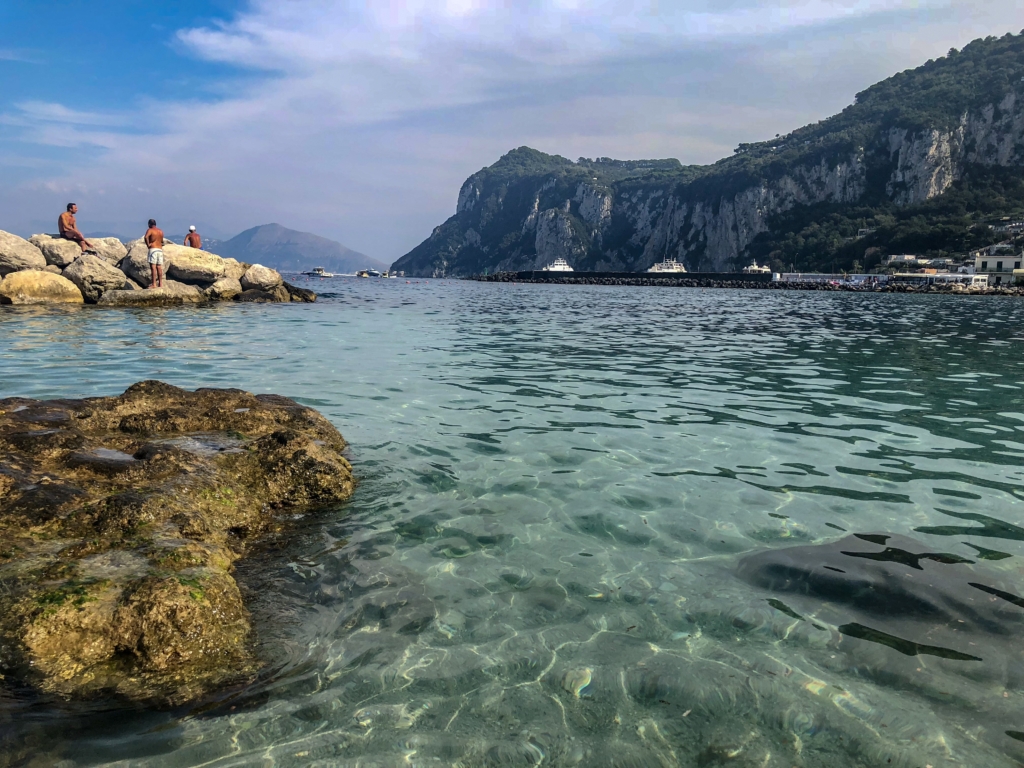 Best Food in Positano:
I would say that ALL the food we had in Positano was very good! My two downfalls would be: 1. Just as other "tourist" cities in Italy, a lot of the restaurants menus are very similar. 2. I wouldn't call dinners overly expensive but comparative to other Italian cities, it is more. Most dishes started around $16-18 euros and when up from there. Also the Italian-American portion sizes that can feed an army, aren't here. Expect just your average portion sizes…. sorry to kill your hopes and dreams.
Ristorante Max: OUR FAVORITE OF THE TRIP. From the bread, to Prosecco, to Pasta, we both agree this is one of the best meals we have ever had to date. I am not sure the Italian name of the dish I got, but it was basically Gnocchi with red sauce, eggplant, and buffalo mozzarella. I know buffalo mozzarella is sold in the states, but I have only eaten it when I've been in Italy. It has a very strong flavor and you should give it a try it you haven't before! I would have gone back back every night if it wasn't for Ryan reminded me we can't come all the way to the South of Italy and only eat at one restaurant. On top of the fact that the food was to die for, our table happened to be in a corner with a glass floor, and the wine cellar underneath. Dim lighting and votive candles all around and I was living the dream.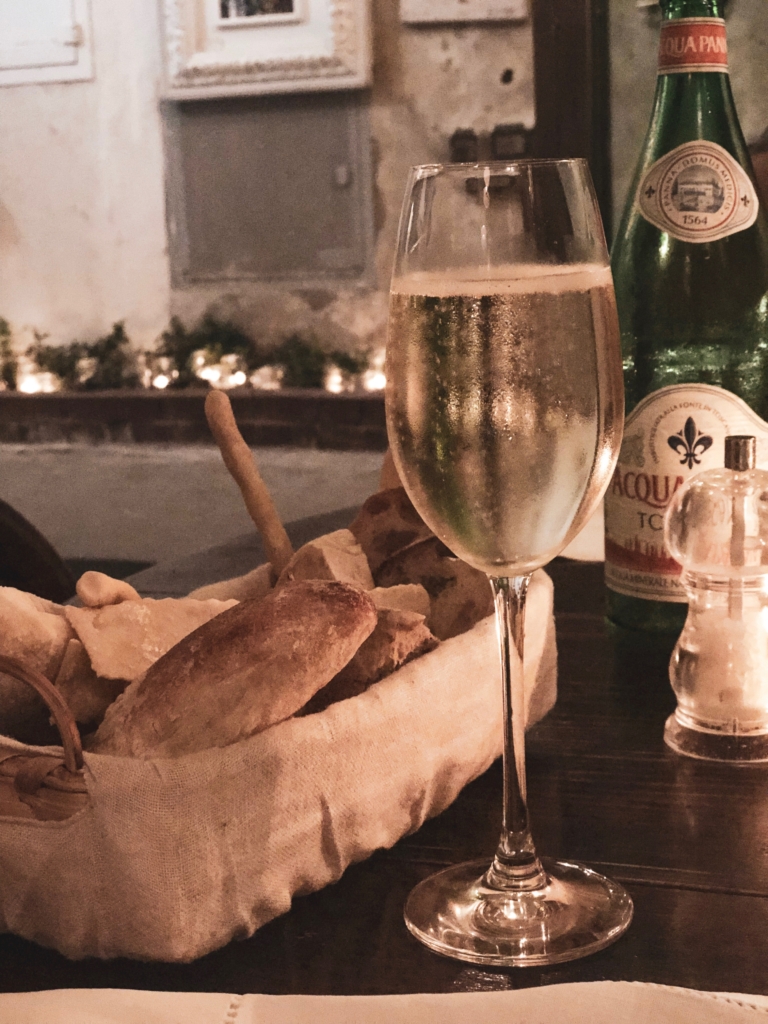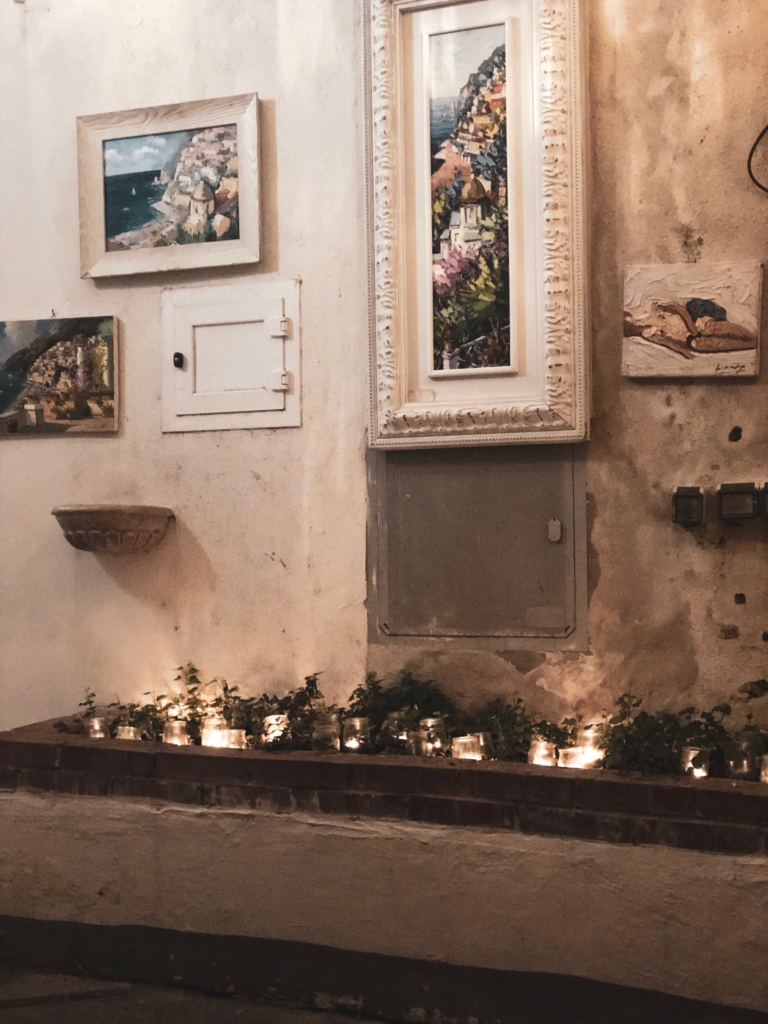 Ristorante Terrazza Celè
: If you are looking for an Instagram photo op, this is it. Location wise, one of the best views at a restaurant, and if you have seen photos of Positano on the gram, chances are one of them were taken here. Unfortunately, I was too busy yelling at our Airbnb host and dealing with some check in drama to soak any of it in. (see the Where to Stay for that story!) That mixed with a dying photo battery, I left with two quick pics. I remember the food being good tho!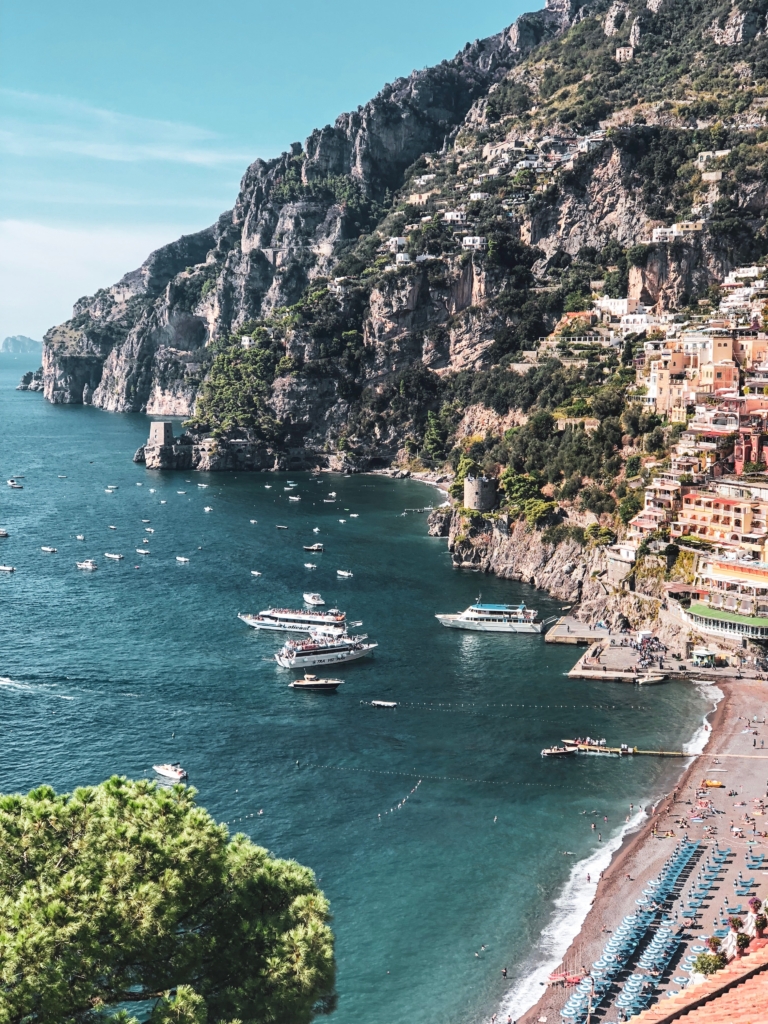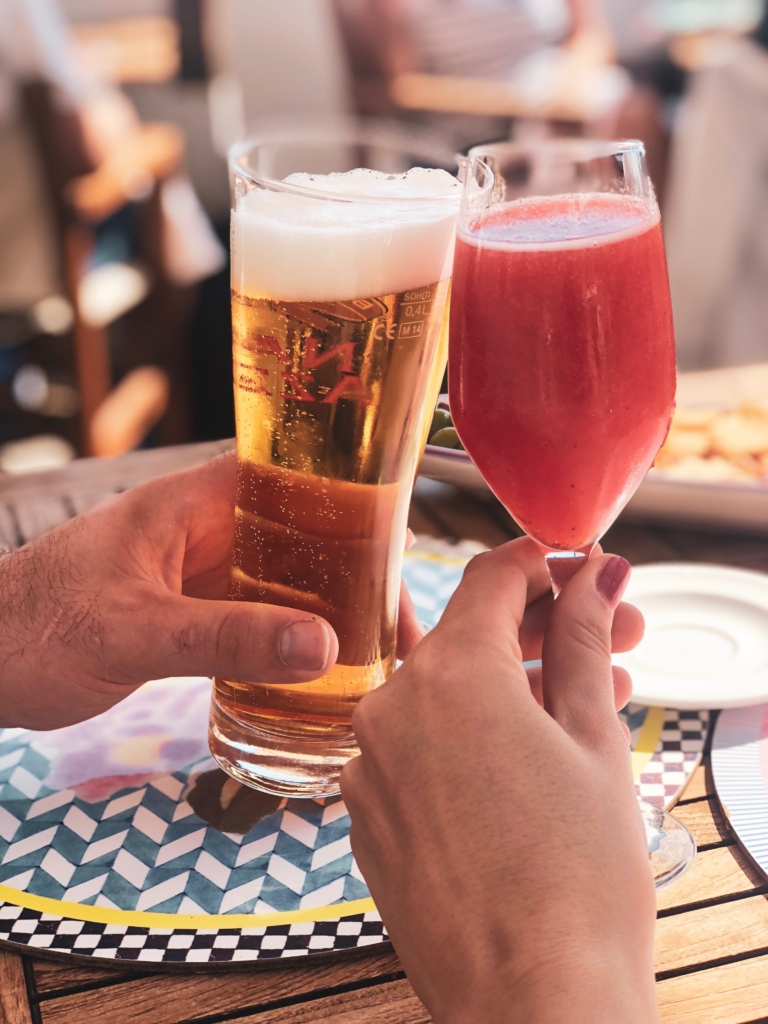 La Zagara: We stopped in here multiple times grabbed quick food out of the case, gelato, and some mornings sitting down for coffee! This was also the place of our first and only lemoncello shot of the trip (I am just NOT a fan hah, but I gave mine to my mother in law who was with us on this trip and she threw it back like a champ!) Ryan loved the fresh juices and I loved the ambiance of the outdoor patio for a morning coffee. It was nothing short of amazing.
Chez Black: On recommendation of my cousin. Both the location, and the food can not be beat! It is literally candle lite dinner right on the beach over looking the mountains and water. Even tho my Mother in Law was there with us, my glass(es) of Prosecco still had me feeling the love in the air.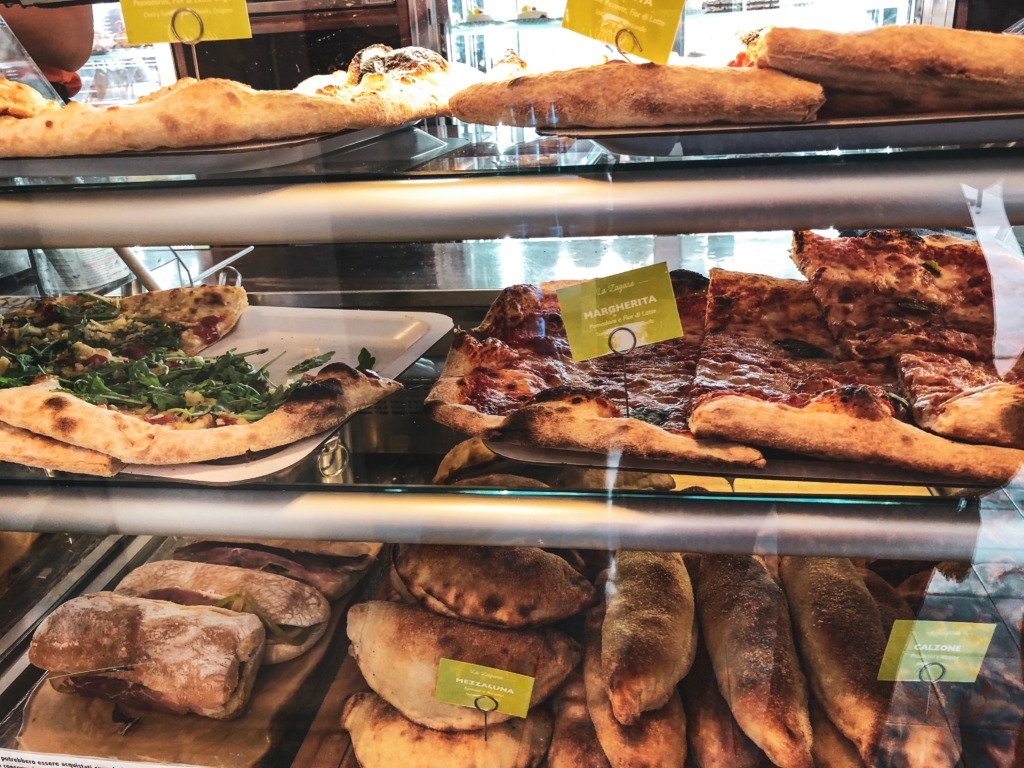 Where to Stay in Positano:
So lets start here: WE LOVE AIRBNB! It is always my first choice when traveling because I feel like it gives the most authentic feel to visiting the city. I love seeing how other people and cultures live, the weird showers and toilets, the whole nine. I have never had an issue with Airbnb, but when in Positano, I did have an issue with the host. Spoiler alert: Airbnb refunded about half our money, and had amazing customer service through the entire process.
I tre angeli Positano: So we stayed here. And won't again. You shouldn't either. Here's why. I'm not sure how she came to have this many good reviews, but those are why I booked in the first place. Maybe my events were a fluke thing? Regardless, read my story and decide for yourself if it is worth the risk to stay there.
Le Sirenuse: My cousin stayed here and spoke highly of it. The rooftop bar is said to be amazing!
Airbnb: Like I said, I'll always be a fan!
How to Travel in Positano:
For many reasons, the trip to the Amalfi Coast is not exactly easy. The Cheapest way is for sure the biggest hassle, but sometimes ya gotta do what ya gotta do. Let me lay down some options for ya, and you can decide based on your budget. Regardless, Naples will be your closest starting point. Once you make it into Sorrento and start into the coast, it is a windy wide. Lots of cars and large buses going around tight corners on the side of mountains and the smallest guardrail sure to stop no one. I get motion sick in cars on occasion and I struggled through this section. As did my Mother in Law. If you lookout the window it is a BEAUTIFUL drive but you may also induce a panic attack or the need to vomit. Just take the Dramamine around the Sorrento point and close your eyes.
Options:
Hire Private Transfer from Naples: We did not choose this option but my cousin and her husband did. Being completely transparent, it is the easiest and safest route to go. They were picked up right at the train station in Naples and driven to their hotel in Positano. I'm not sure what they paid but when I had looked it up, I decided against it at the time. Looking back I would consider it because it makes it a straight shot. Knowing what I know now, if you can swing it, do it.
Airport shuttle Bus to Train Station: This is by far the cheapest. Yet, not the one I would recommend. There's even more moving parts than what we decided on. Also be VERY AWARE of your surroundings. This Naples trains has some of the highest pick pocket stats in the world. Not to mention extremely packed. When exiting the airport, you can grab the shuttle that comes every 30 minutes to take you to the Naples Stazione Centrale. It only cost a few euros and depending on traffic is about 20 mins. You will be dropped at Piazza Garibaldi. Once you enter the station, turn right and follow the signs for the "Circumvesuviana" trains. It is about a 10 minute walk from the main entrance to the ticket booth of the Circumvesuviana line. The fare to Sorrento is 4€ per person and the journey will take about 1 hour as the train stops at every town along the way and Sorrento is the last stop. From there, get a ticket (around 3.50€ each) and grab the SITA bus to Positano, getting off at the Sponda bus stop. This will put you by a lot of the restaurants and above the main beach area. This bus is also packed with no gaurentee of a seat. This is also the part of the trip that your stomach will start to spiral from either the motion sickness or fear of driving over the edge. Regardless, have your camera ready for the amazing views.
Ferry: There is a ferry option from Naples to Sorrento that takes about 40 minutes costing about 13€. Upon arrive then transfer and take another 40 minute ferry Sorrento to Positano ( 15€) I am not sure the logistics on the ferry port locations and travel to and from them.
The Route we took:
Curreri Viaggi Bus: 10€ a person. About an hour ride depending on traffic. A very nice air conditioned bus that took you from Naples Airport to Sorrento Train Station. The seats reclined and they were curtains on the windows that made for a nice nap. The most difficult thing about this transportation was finding it from the airport, even tho it was AT the airport. We must have asked the same lady 4 times where the heck to go. Simply walk straight out and cross the road and keep walking straight. You will eventually see an opening in to a car park where all the coach buses are parked. The signage is terrible.
then switch to SITA Bus: get a ticket (around 3.50€ each) and grab the SITA bus to Positano, getting off at the Sponda bus stop. This will put you by a lot of the restaurants and above the main beach area. This bus is also packed with no gaurentee of a seat. This is also the part of the trip that your stomach will start to spiral from either the motion sickness or fear of driving over the edge. Regardless, have your camera ready for the amazing views.
Getting to your Airbnb: If you are staying in an Airbnb and not a hotel, you are most likely up on the mountain. You can either walk the stairs, which is defiantly doable if you are an Olympic athlete or take the Local Interno Bus. Pick it up at the same location as the SITA bus but keep an eye for which one to get on. The Interno bus is noticeably smaller and "old school" looking. Have cash. Its only a euro or two but well worth it. We used it multiple times a day. Regardless of this local bus, you will still be walking TONS and TONS of steps where no cars or buses can get to, so don't think you can get away from that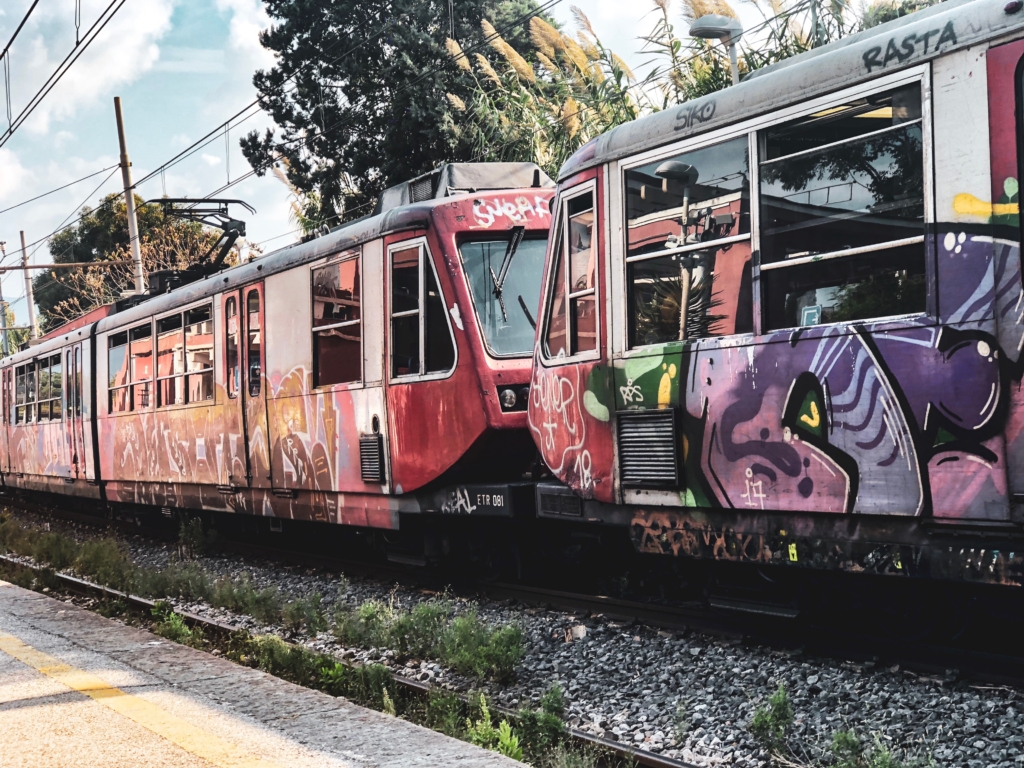 Is It Safe in Positano:
We found it to feel very safe. We felt fine walking around at night and we felt no sense of concern while in Positano itself! The locals are extremely friendly and a lot seem to speck English. It is a beautiful city and we would continue to go back time and time again. The only increased caution we felt needed to be taken was traveling for excursions from Positano. We took the SITA bus from Positano to Sorento and then picked up the train to go to Pompeii. This train is one of the most highly pick pocketed places in the world. I was told by a past co-worker that her husbands wallet was taken out of his front pocket while he was sitting down. That's wild. Eyes open friends!
According to the United States Gov Travel, Italy is listed as a Level 2 in Safety. (Click here to learn more.)
*With all that being said: you are still in a foreign country, there is increased terrorism in the world today, and tourist in general are known to be targeted in any country. To keep yourself safe always beware of large crowds, beware of groups coming up to you trying to get a petition signed, keep your money and valuables hidden from pick pocketers, split your money up so it is not all in one locations, have copies your passports both at home and with you. With any serious concern contact your countries embassy.*
Things to do in Positano:
Pompeii/ Mt. Vesuvius: In 79AD Mt. Vesuvius erupted and buried a city in Volcanic Ash. Today you can walk the ruins and Museum and see artifacts from that time, also see bodies frozen and harden in the exact position they were in when the lava hit. Don't take anything from there tho, legend says bad luck falls on anyone who takes something from the site.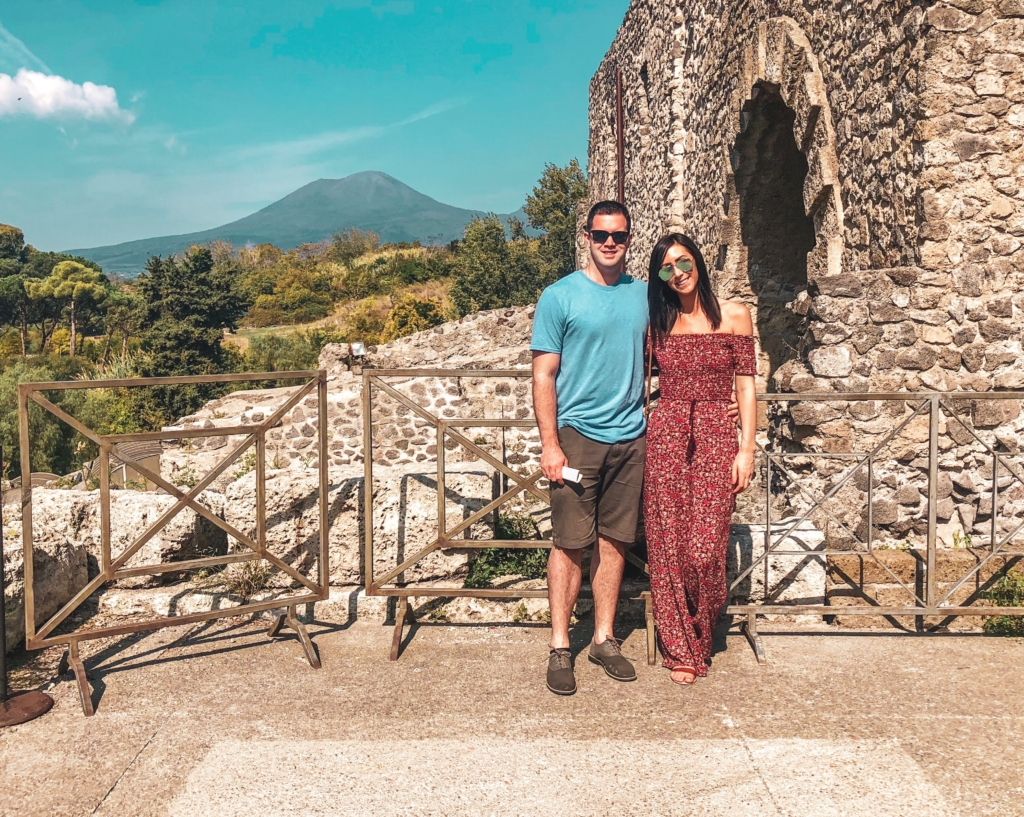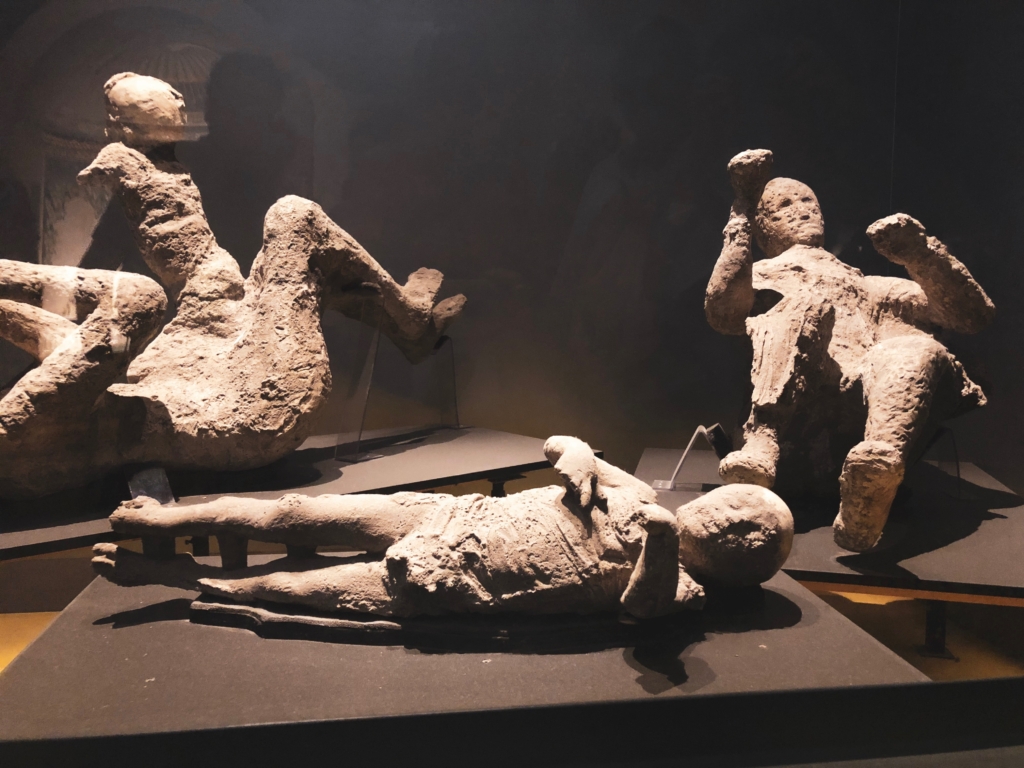 Amalfi: 25 minute ferry will bring you to explore Amalfi! 8-10€ each way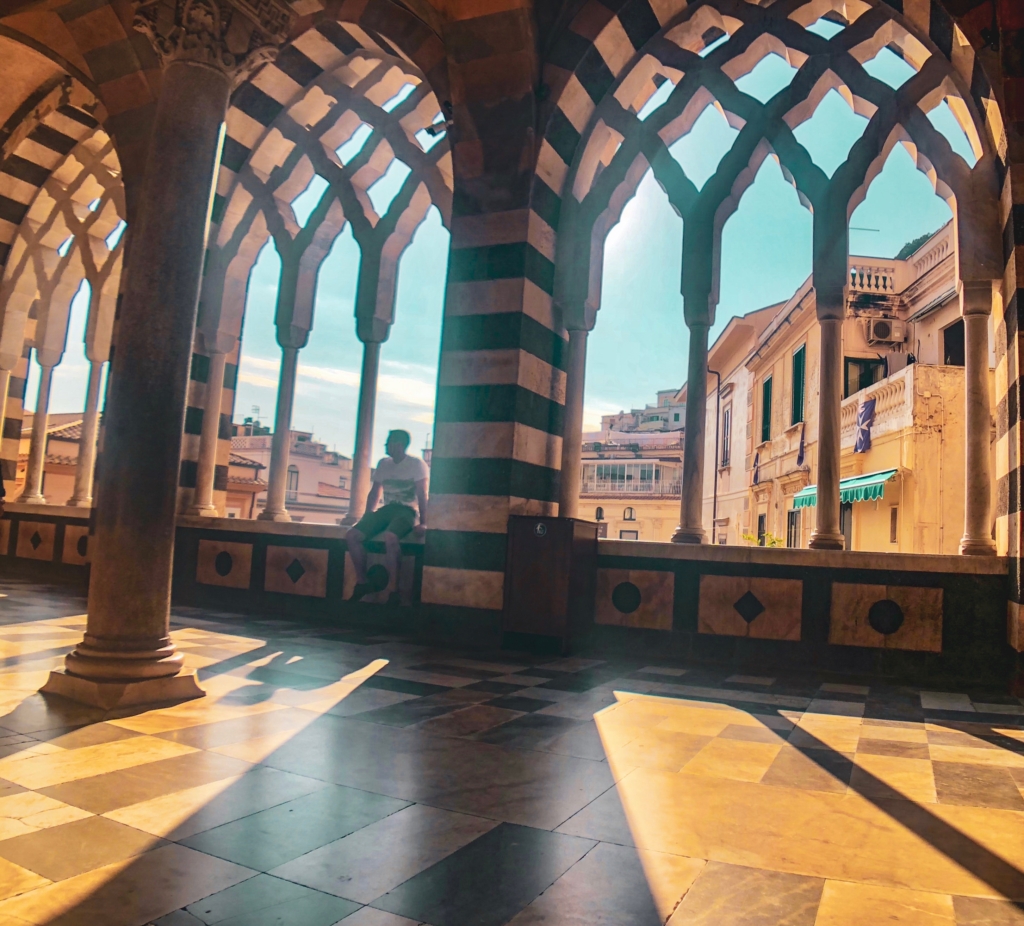 Capri: If you are planning a trip to Positano, you have already looked at Capri. There's no way around it, it is a must do! And there's plenty of ways to get there. Taking the ferry will run you about 22€ and 30 minutes each way. This is the most economical way to see the Island. But if you can swing it, either book a private skipper to take you to Capri, and through the Grotto's, or book a 12-20 person tour that does the same. Prices range depending on the company you choose and how many people are on your boat. I would suggest prebooking this before you trip if you want to have the BEST selection and prices. You can book through sites like Viator. (our favorite excursion booking tool) If you decide to wait to you arrive their schedule will be more limited and they may be booked up on during the days you are there. We met a married couple that barely made it on a boat last minute because they had waited. If you decide to wait to book there is tents on the beach with sailing companies offering tours so you can sign up there.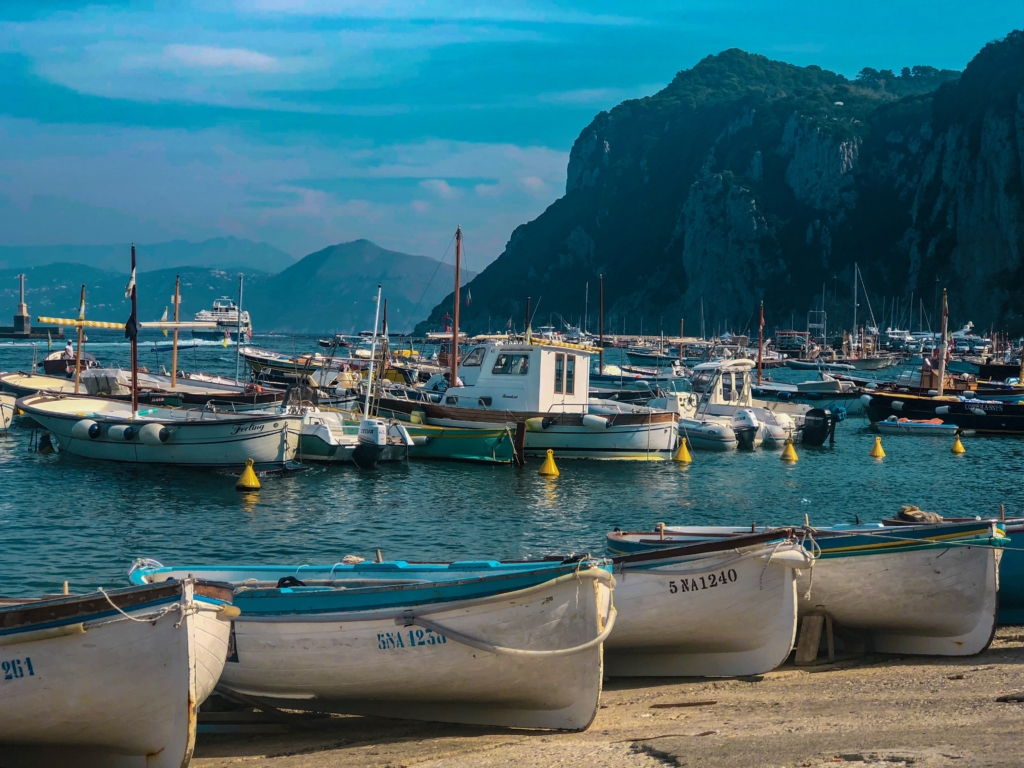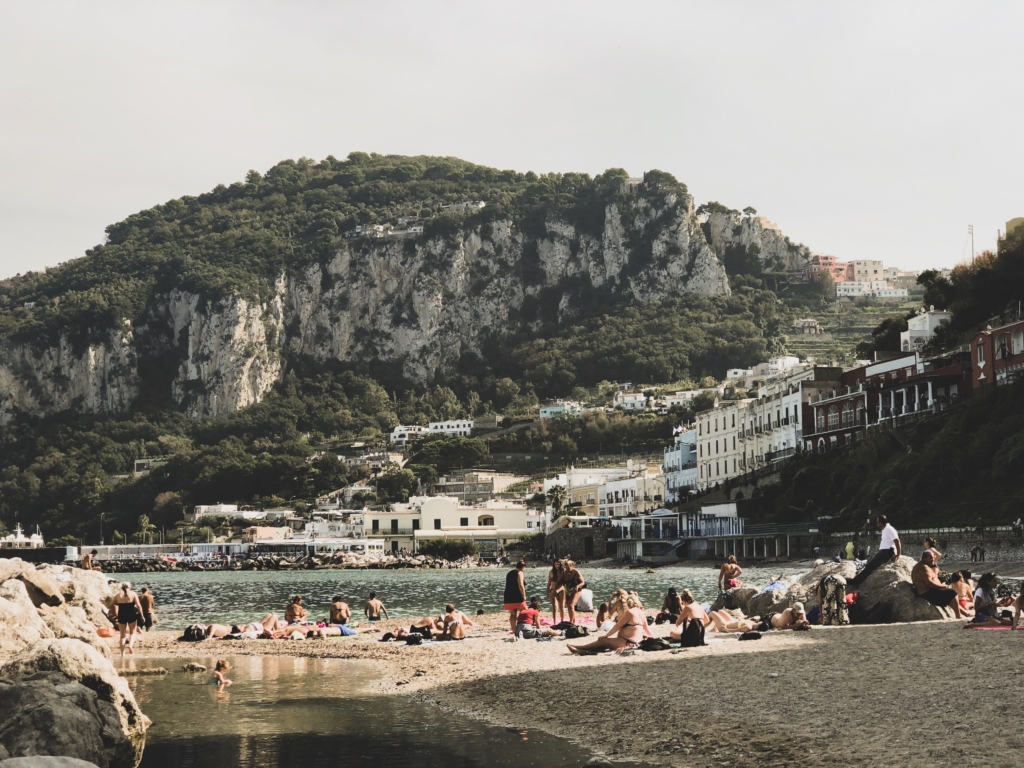 Blue (and Green) Grotto: This will most likely be combined with your Capri tour, but if for some reason you decide to take the ferry there, make sure you do this as well. We would have done anything to go inside the Grotto's but unfortunately they were closed that day. It happens often if the winds are too strong so it is not something you can bet on. Once you are outside the Grotto, you switch to a small 3 person row boat where he grabs ropes attached to the rocks to catapult you into the Blue Grotto, you have to lay all the way back in the process to fit. See why the winds can determine this? Doesn't stop me from being sad I missed it tho! Also, if you do make it in, the official law is there is no swimming in there, BUT its also been heard that a hefty Tip can make you row boat captain look the other way and let you jump! (Thomas Rhett and his wife posted proof of this on insta!) When you hire a private boat and not the ferry, you are still able to swim right outside of them tho! Ryan dove right in and I almost passed it up because the water was pretty cold in October but HEY, when is Italy right! #burrrrr
Path of Gods: Although this is not something we did, I wish it was!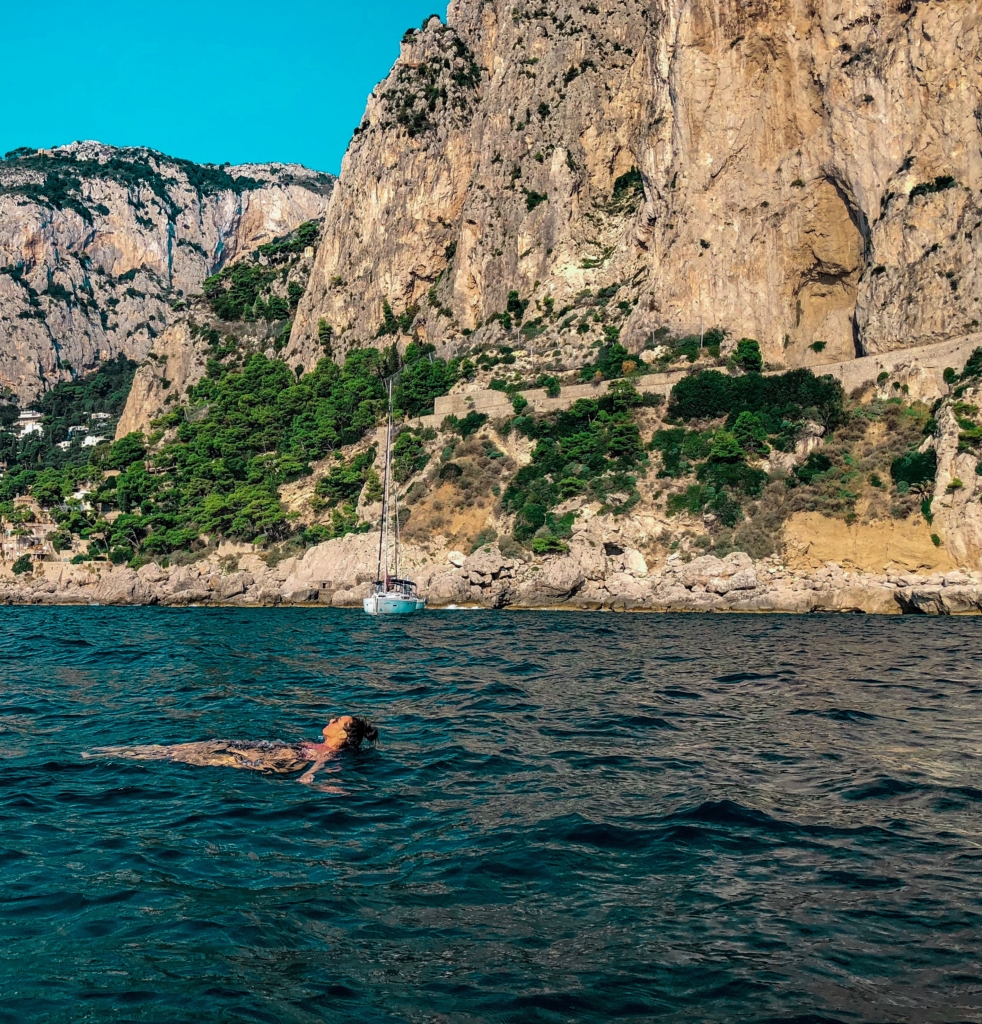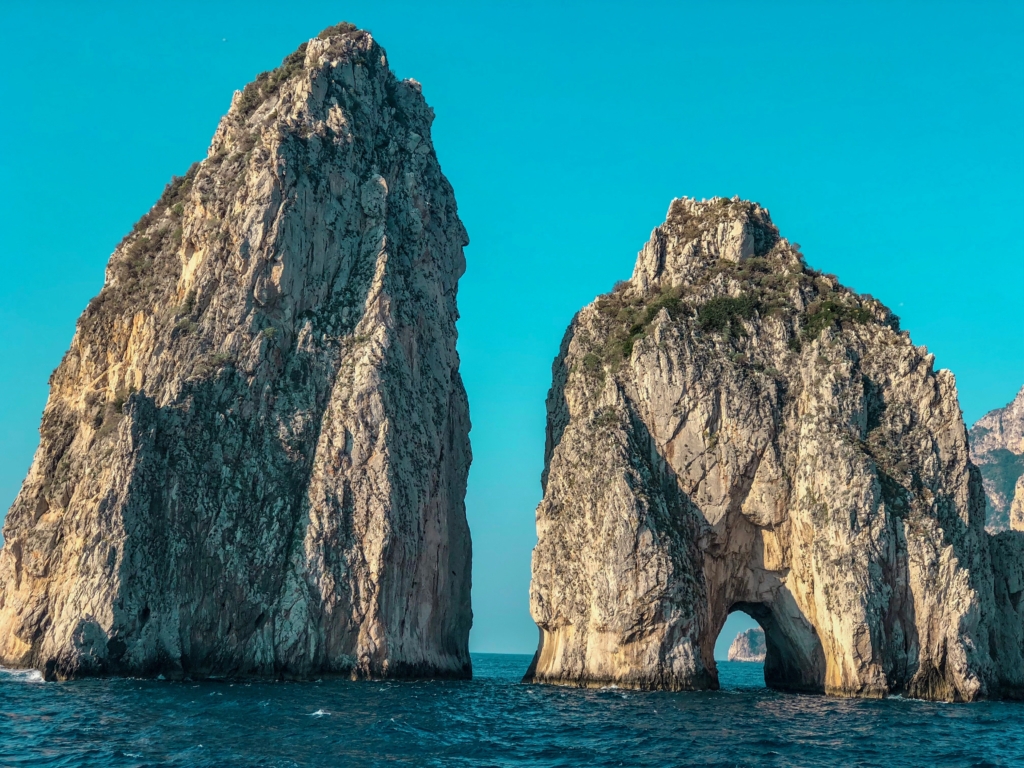 Travel Tips in Positano:
Electronics Voltage in Italy is 220. (America runs on 110)
Currency in Italy is the Euro.
Uber is not used at all in some Italian cities, but is legal in Rome and Milan. Although not widely used and more expensive than a regular cab.
The Steps are seriously everywhere on the Amalfi Coast. I'm not sure of anywhere that is wheelchair accessible. Also, those with bad feet, knees, and back, think strongly before booking this trip.
Our overall opinion is that Positano was a bit more expensive than most Italian cities.
In my opinion the dress code would be considered Smart Casual
__________
Europe is NOT the United State! If your'e an American like us:
Leave the baseball hat at home
Wear a more fashion forward shoe when walking around. A "gym sneaker" while not in the gym is a dead give away as an American and can make you a target.
Remember that just because it is different than the states, does not make Europe any less advanced of a country.
Food is made their way, not your way…..your'e in their country!
Remember to get a voltage adapter or compatible electronics.