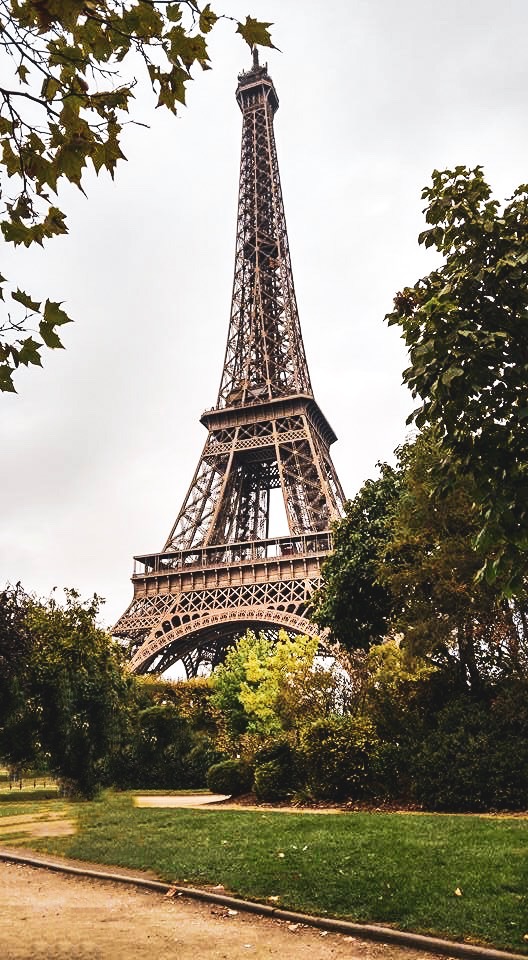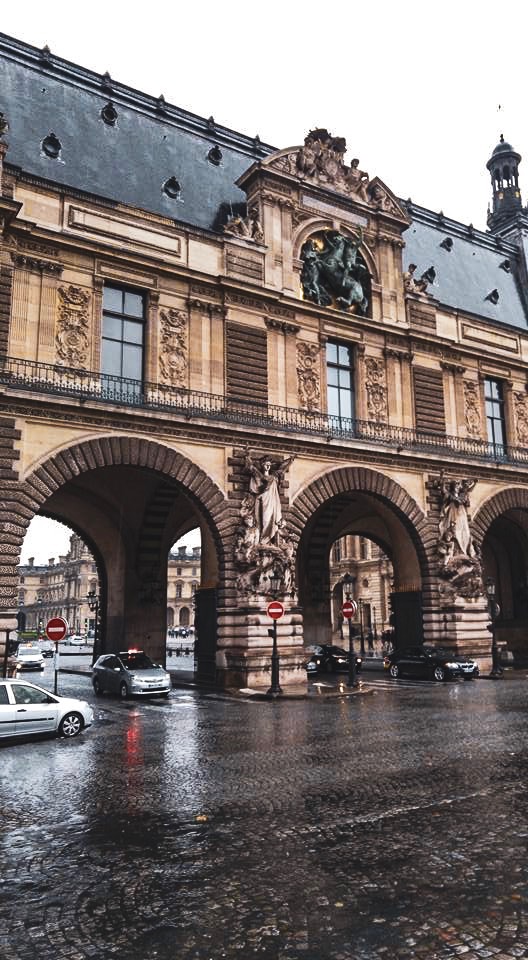 O

ur thoughts are so mixed when it comes to Paris! Part of me says the architecture and croissants make it a place I want to see again, and part of me just was not that interested and says there is no need for me to return. There's so many factors that play into that, the rain, the fact that some people were a little rude, oh and maybe the fact that we arrived in the city hungover yet higher than a kite. That I do not recommend. If you haven't heard that story, head over to the Amsterdam blog and start there. That in general put a damper on the beginning of Paris, but the end…….now THAT is something I'll remember till the day I die. We traveled to the Palace of Versailles (now I would definitely go there again!) and got ENGAGED! All in all I think for the right price, I would try again. If you are heading to Paris, read this while Blog and figure out where we went wrong so you can avoid that and have an amazing time!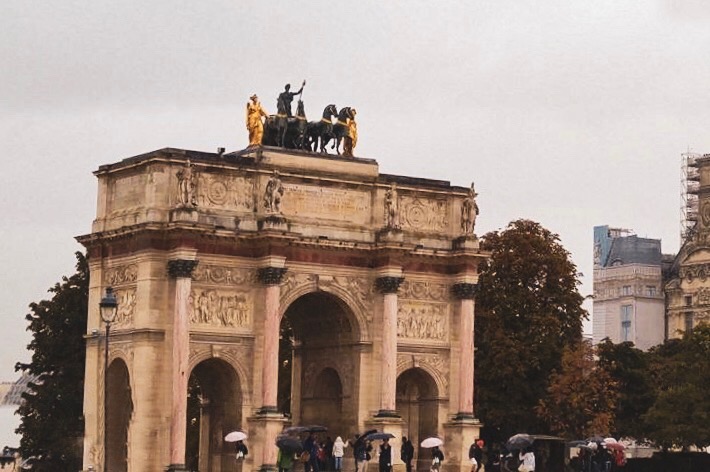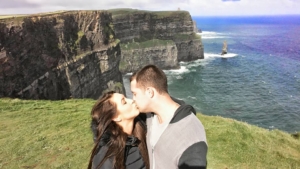 Our love for adventure brought us together, but our views of the world, and similar goals in life, will keep us enjoying each day together, for the rest of our lives. Here's to a lifetime of adventures!
This error message is only visible to WordPress admins
Error: API requests are being delayed for this account. New posts will not be retrieved.
Log in as an administrator and view the Instagram Feed settings page for more details.
Best Food in Paris:
If you have read my Amsterdam blog you will see why this section is a bit lacking. From what I remember, besides the items listed below, food just was not my favorite. This is mostly because even at the time (pre vegetarian days) I was not a big meat eater, and there was a lot of that on the menus. Lot of duck, rabbit, and other weird meats that I was not going to attempt. If that's your thing, you'll love the food here. If we were to go back, I would search out some vegetarian places and give them a try!
Chez Germaine: It was right by our AirBnB in the 6th District. The entire menu was in French, I didn't have my Google Translate app on, and the waiters didn't (or wouldn't?) speak English. We were exhausted! We literally just guessed and pointed to the menu. I ended up with some type of pizza with a sunny side up egg on top. Honestly it was pretty good! I would go here again. Hopefully with a translator!
CROISSANTS: Okay lets start off by saying, I don't like them. Or so I thought. I don't know, they're flaky, and dry. and you have to cover them in chocolate or fruit spread or something else to even make me take a bite. But Ryan likes them so he got one. He lit up like a firework and made me try it. THE BEST THING EVER. Literally absolutely NOTHING like they are in the states. It was like eating a cloud. No butter, chocolate, jelly, nothing. So naturally I'm a croissant fan now, but strictly in Europe. The difference is absurd.
Bread: Bread is general just tastes better. Just really carb load while in Paris okay?
Cheese: We went to a local cheese store, and just pointed to some random ones we wanted to try and ate them with bread. They were amazing.
Crepes: One of the coolest things I've done was eat a crepe from a small stand under the Eiffel Tower. Even tho it was pouring rain, I felt like I was in the scene of a movie. And, it was delicious.
After 2 nights in Paris we took the train to Versailles for one day, we had a quick croissant before leaving so we only had one meal in Versailles. It was our first meal as an engaged couple after a long day of traveling, tears of joy, and an engagement shoot with a surprise photographer. We got back to the hotel and couldn't even fathom how hungry we were. Literally right next to our hotel we found this place and it was delicious!
Pizzeria César by Simone Zanoni: The wifi wasn't the best (I was dying to post photos of my ring!) But I did manage a phone call where people were surprised to hear right after our magical day were we sitting at a casual restaurant stuffing our face with burgers instead of a fancy meal. We wouldn't have it any other way!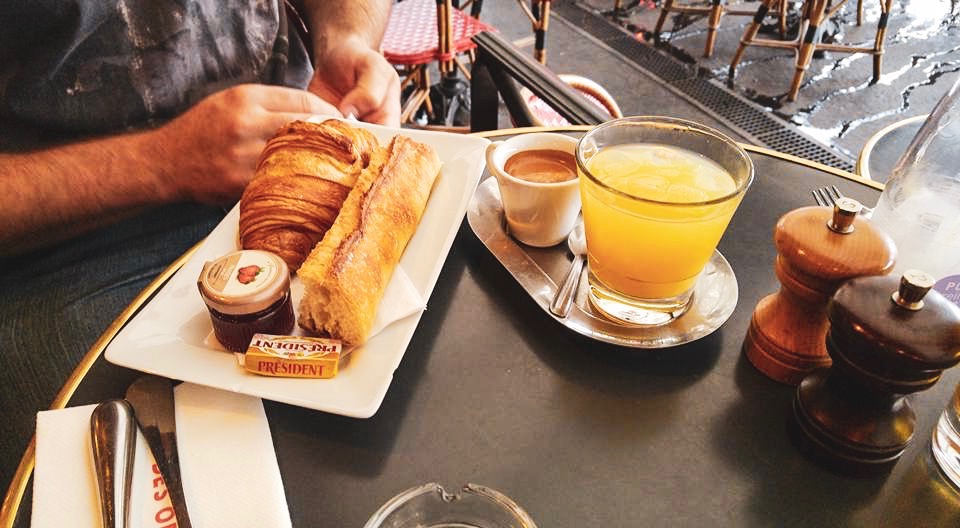 Where to Stay in Paris:
Paris is big! It is divided into 20 districts (arrondissement in French) and the neighborhoods can be quite different depending on which one you decide. Paris is generally a safe city so find a district that fits you and your needs the best! Think of the the districts numbered like a bulls eye. 1&2 are the center of the city, then the numbers swirl around and out from there. The highest number being furthest from city center. For reference, The Louvre is the 1st District, The Eiffel Tower is the 7th District, and Notre Dame is the 4th. It is all a lot of walking, so choose what works best for you.
We stayed in an Airbnb in the 6th District! Known to be one of the prettiest parts of Paris. We were pretty new to Airbnb and just kinda of booked one at random. It worked out! The place for very small but suited our needs just fine for our 2 days before leaving for Versailles. The bed was actually a pull out couch but we slept fine. Actually, we were out cold hungover but, hey what are you going to do. Finding the door into the courtyard was a bit tough but we were also not in the proper state of mind so who knows if it is actually that difficult?
PROS:
Beautiful location
Walk to everything
Restaurants around
Did not seem touristy
CONS:
Very small room
Possibly difficult to find if you are not hungover?
Could not see the Eiffel Tower from our area.
We stayed in Paris for 2 nights before heading to Versailles! Versailles was a dream! And I'm not just saying that because we got engaged there. We went on a recommendation of just about every person we mentioned that we were going to Paris. It did not disappoint (well, clearly!) We were only there for one day, but it is the most beautiful place in the world!
PROS:
Clean and Comfortable
Good Service
LOCATION to the Chateau is perfect!!
Restaurants and little shops next door.
CONS:
How to Travel in Paris:
Paris is BIG and in our opinion difficult to navigate! It is not the city that you arrive and just walk everywhere! Although, there is a lot of walking. If you are flying in you will most likely arrive at one of the 3 big airports
Charles de Gaulle Airport
Orly Airport
Beauvais-Tillé Airport
Also, getting to where you are staying can greatly differ as the is 20 different districts or neighborhood in Paris in which to stay in. Here's a summary of ways to get into the city center:
From Charles de Gaulle Airport to City Center
350/351 Local Bus. €6 About 1 hour 15 minutes
RER B Line Train €10.30. About 30 minutes. Train at Airport.
LE Bus Direct- Airport Shuttle. Times, prices, and what route you take varies. Prices range about €12-22.
Taxi/Uber. Prices vary. About 30-40 minutes.
From Orly Airport to City Center
285/183 Local Bus
RER B Line Train + Orlyval. €11.30 one way. Train Station is about 5 miles from Airport. Take the Orlyval shuttle. (ride is about 10 minutes. Shuttle runs every 3 minutes.) to Antony Station then transfer to the Blue line B RER to take you into the city center.RER about 30 minutes. Ticket includes both shuttle and RER ticket. Very Crowded Train.
RER C Line Train + Orlyval. About. €10Train Station is about 5 miles from Airport. Take the Orlyval shuttle. (ride is about 10 minutes. Shuttle runs every 20 minutes.) to Pont de Rungis-Aéroport Orl then transfer to the Yellow line C RER to take you into the city center and specific stops. RER about 40 minutes. Ticket includes both shuttle and RER ticket. Stops at specific stations beneficial to travelers but a very crowded Train.
ORLYBUS: Departs every 10-20 minutes. About 30 minutes. €7.70. Brings you to Paris Denfert-Rochereau. Which may still be a bit far from where you are staying
Super Shuttle Price may vary depending on group size. Brings you directly to your hotel. Great for group travel.
Taxi/Uber. Prices vary. About 30-40 minutes.
From Paris Beauvais Airport to City Center
Airport Shuttle Bus. About €17. Non stop to Porte Maillot. 1 hour 15 mins.
Taxi/Uber. Prices vary.
Once arrived in City Center:
Paris Metro: Day Pass €12. The most popular way to get around the city. There are numerous stops to get you exactly where you need to go. Best way to get across city during rush hour. Be Careful tho, pick-pocketing is HUGE on this. Always keep you bag in front of you and with you hand on it at all times.
BUS System: Another super easy and inexpensive way to get around. €1.70/ticket or €12/10 pack. You can get the bus tickets at the same place as the Metro tickets. Make sure you validate it before boarding! Also you have 90 minutes of use out of the ticket which means you can ride as many buses as you want in that time span!
MotorTaxi: Prices vary. We took this from the Eiffel Tower to the Louvre and it was so fun!
Taxi/Uber. Prices vary.
OUR OPINION: Over all, if you have room in the budget, take an UBER to and from the airport!
Paris to Versailles:
About an hour to hour and a half train ride from Paris depending on where you are staying. Take the RER C Train to Versailles. Depending on the closest Metro station to you, may have to transfer trains and train stations.
Is It Safe in Paris:
The short answer is yes! Especially in the daytime. But it is still a large city, and just as in any large city, crime happens. To be honest, most of these little crimes are theft and pick pocketing tourists who just aren't paying attention. But again. that is every large city in the world. There are some places to avoid, esp after dark. Most of them would be the Northern Suburbs of Paris.  Specifically, these Metro stations and areas are best to avoid at night:
Saint Denis (Be cautious on the street in the day time)
Les Halles,
Chatelet,
Gare du Nord
Stalingrad
Aubervilliers
Saint-Ouen
According to the United States Gov Travel, France is listed as a Level 2 in Safety. (Click here to learn more.)
*With all that being said: you are still in a foreign country, there is increased terrorism in the world today, and tourist in general are known to be targeted in any country. To keep yourself safe always beware of large crowds, beware of groups coming up to you trying to get a petition signed, keep your money and valuables hidden from pick pocketers, split your money up so it is not all in one locations, have copies your passports both at home and with you. With any serious concern contact your countries embassy.*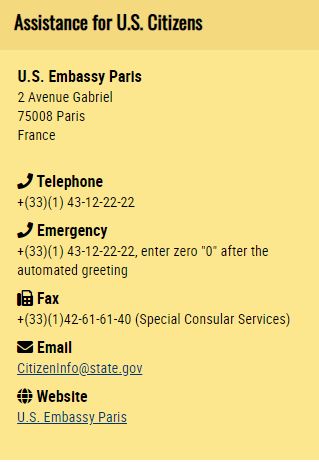 Things to do in Paris:
I could list all the beautiful site to see here, but we'd be here all day. Every street in Paris is like a work of art. Just go see every Cathedral, Monument, and even street you can. Our favorites (or not so favorites) are below.
Eiffel Tower: I clearly didn't even have it list this. It was beautiful. We didn't go to the top but I didn't care. We ate crepes, and sat on the ground in the park and just looked at, marveling that we were actually there to experience it and not stuck in little ol' upstate NY.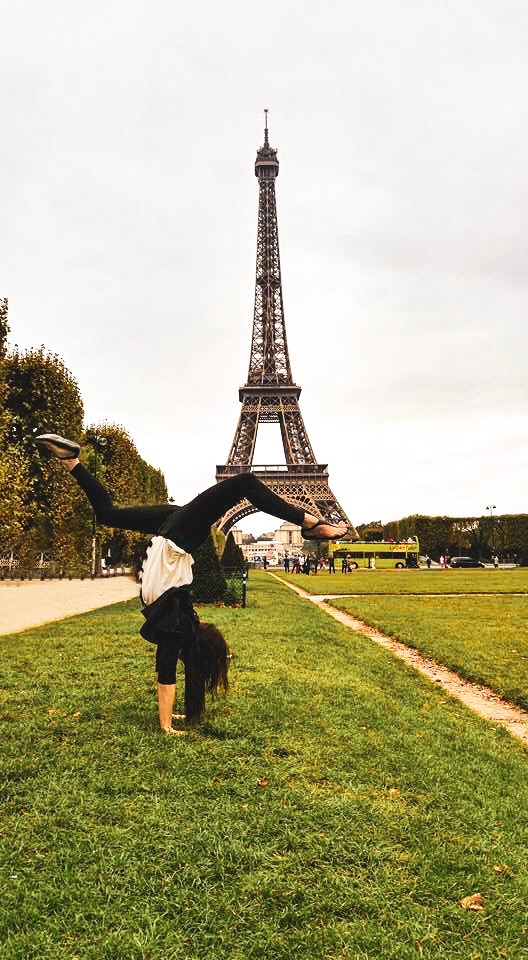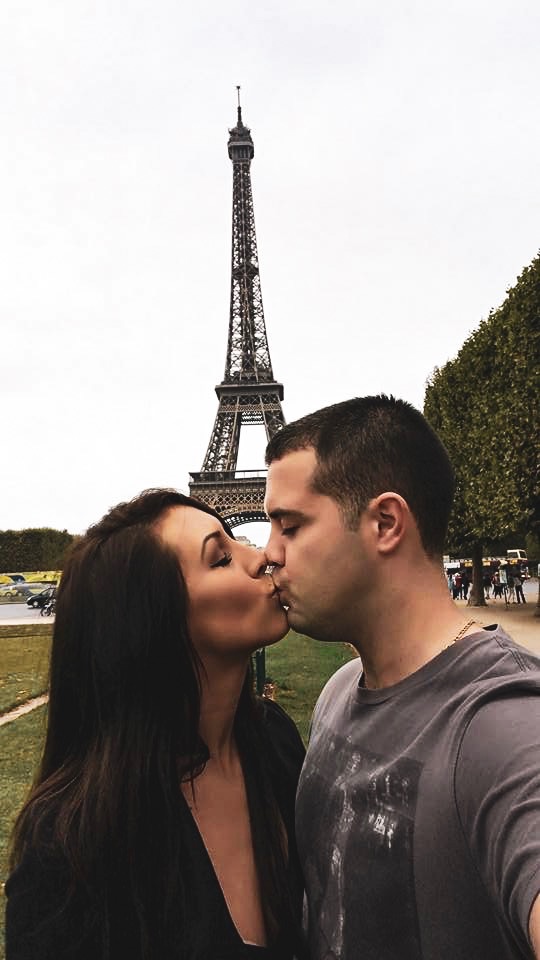 Louve: When we first arrived, this was on the must do list for us. And anywhere you Google about Paris it will be on their list too. Well, we are taking it off our list. We stood in a massive line for 3 hours in the pouring rain (get the Paris Pass to avoid this) We both huddled under one umbrella and it literally rained cats and dogs the entire time. We were so annoyed listening to the street peddlers walking up and down the whole time trying to sell us an umbrella. Couldn't they see we had one! Not even 10 minutes later ours freaking broke and there went Ryan chasing them down. So After 3 hours in line we finally got in and were soaking wet. After a quick visit to the bathroom where I tried to dry my shirt with the hand dryer we started to walk around only to come to the realization neither one of us care about art what so ever. We wanted to see the Mona Lisa tho so we headed for that. It is enclosed in glass, and roped off with a massive group of people which prevented you from getting within 30 feet of it. I snapped a photo and we were out of there.
Cathédrale Notre-Dame de Paris: Tragically, burned down but it being rebuilt! Stay tuned for a reopen date.
Arc de Triomphe: Why does this remind me of Mary Kate and Ashley's Passport to Paris?
Luxembourg Gardens: I mean, they are just beautiful!
Moulin Rouge: This is something I wish we did! And when I go back, I will 100% make sure we do. The tickets are quite pricey and the dress code is strict but I have never heard a bad review about the show. Have you been? Reach out to us and let us know your thoughts!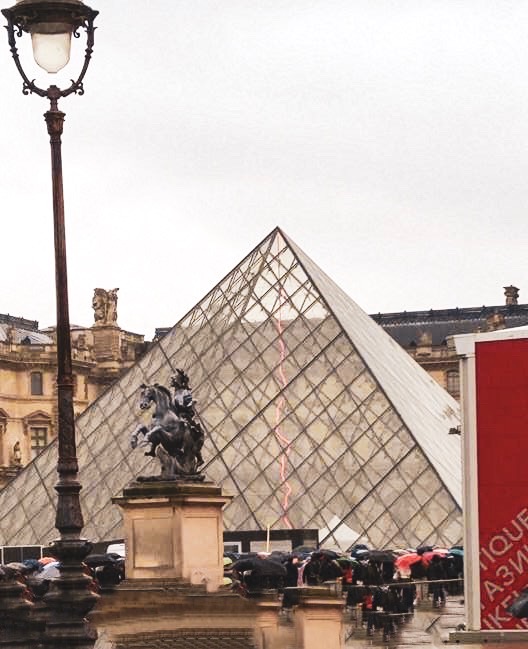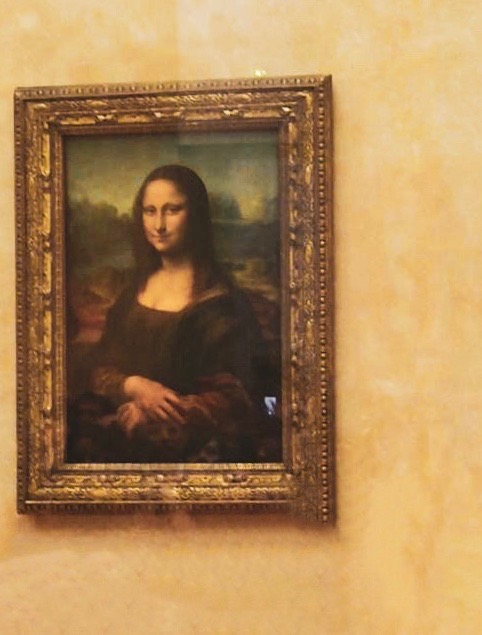 PALACE OF VERSAILLES: Ahhhh saved the best for last! When we told people we were going to Paris EVERYONE that had been recommended this. After a few google images we put it as a must do. I knew I had to see those gardens. And boy did they not disappoint. To make the longest story ever, as short as can be. We walked around the Gardens for about an hour taking photos and just talking. Even with all those people there I keep seeing someone far far off in the distance that seemed to go everywhere that we did. I mentioned it to Ryan that I think were being followed in which he replied I was crazy. Well that's true so I let it go and we kept strolling along. We walked around forever holding hands in the most romantic spot, my heart was so full. Ryan stopped to tie his shoe and I saw him again! "Ryan, no we are being followed that guy is still there!!" Seriously tho, he was so so far back, Like half a football field away. I don't know how I kept seeing him! Again Ryan brushed it off and tells me his feet hurt and lets sit on this bench. Well it had been raining so I said I wouldn't sit because I was going to get all wet. He tried again, but I stayed standing. So he tells me to take a good panorama of the Palace because where we we standing made for a perfect view of it. So I'm taking a photo and Ryan is tugging on my arm saying my name. "Ry stop I'm taking a photo" Still hes tugging….Ryan wait a second. Finally I turn around and see him on one knee with the most beautiful ring asking me to marry him! Obviously I said yes! He goes turn around, and who do I see? That guy! He WAS stalking us! Ryan had hired him to secretly follow us all day and capture the proposal, and we got a to spend the rest of the day taking our engagement photos right there. (I almost ruined the proposal like 3 times by calling him out and then not sitting on the bench which was the "que" to him that Ryan was about to propose. hahah opps!) It was literally out of a fairy tail and hands down the best moment of my life. I swear I am not bias tho, married or solo you still need to go here, it's a dream!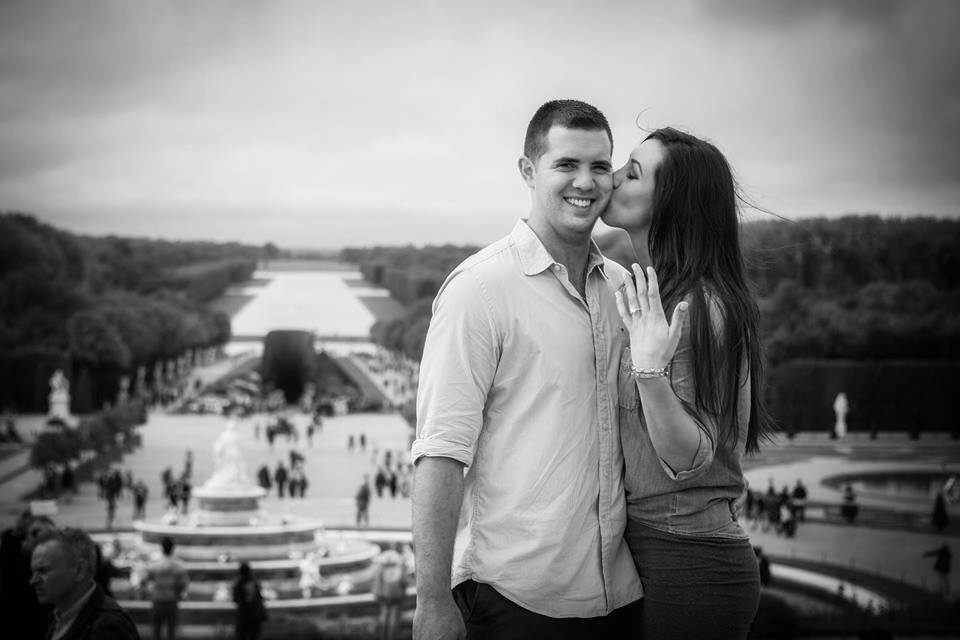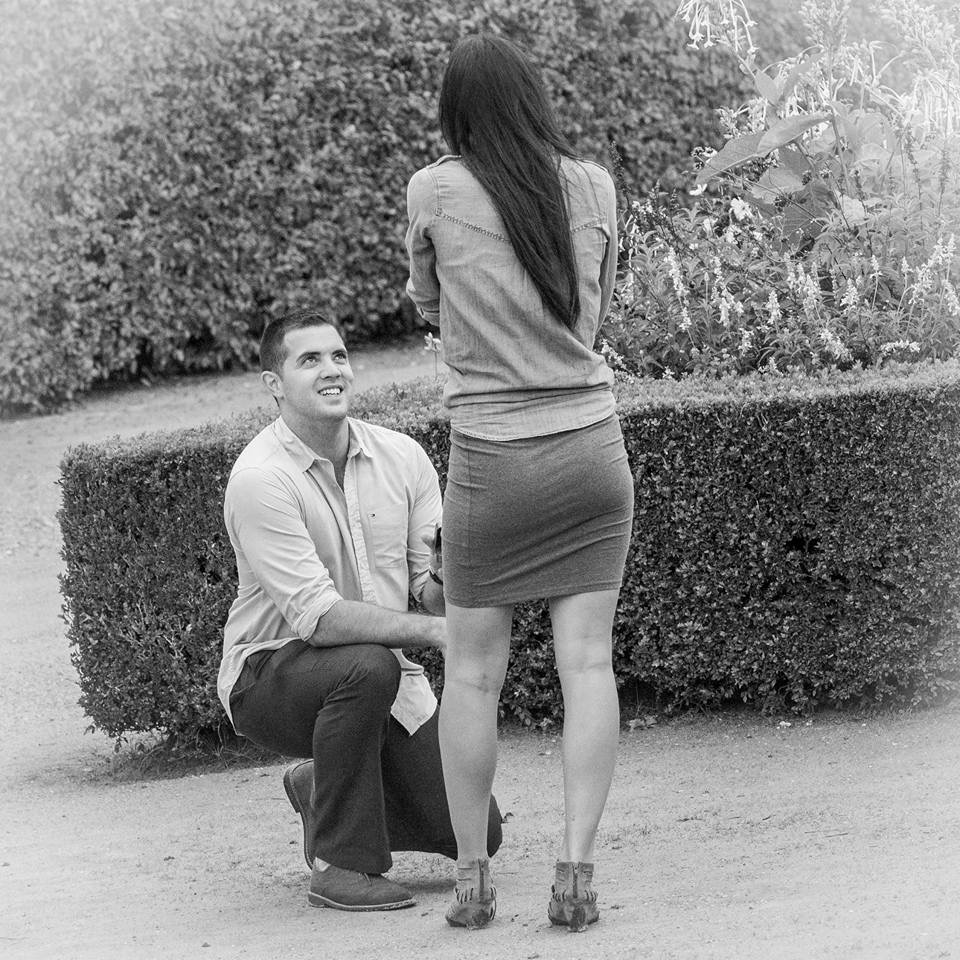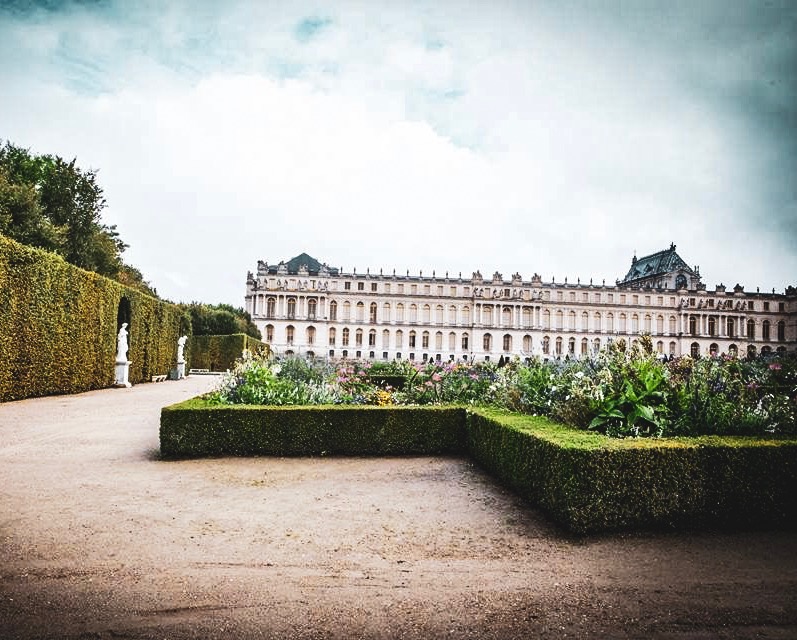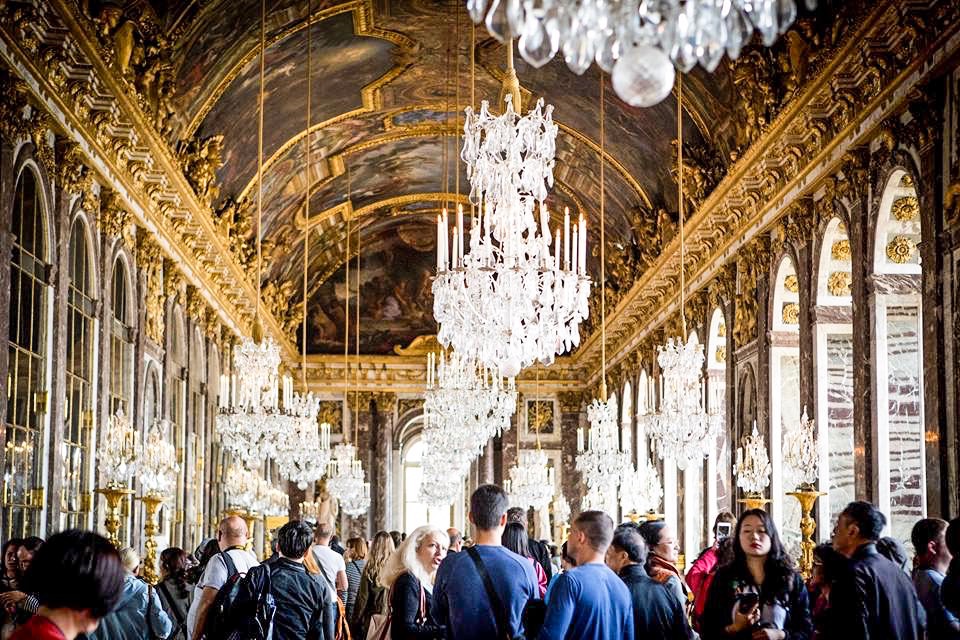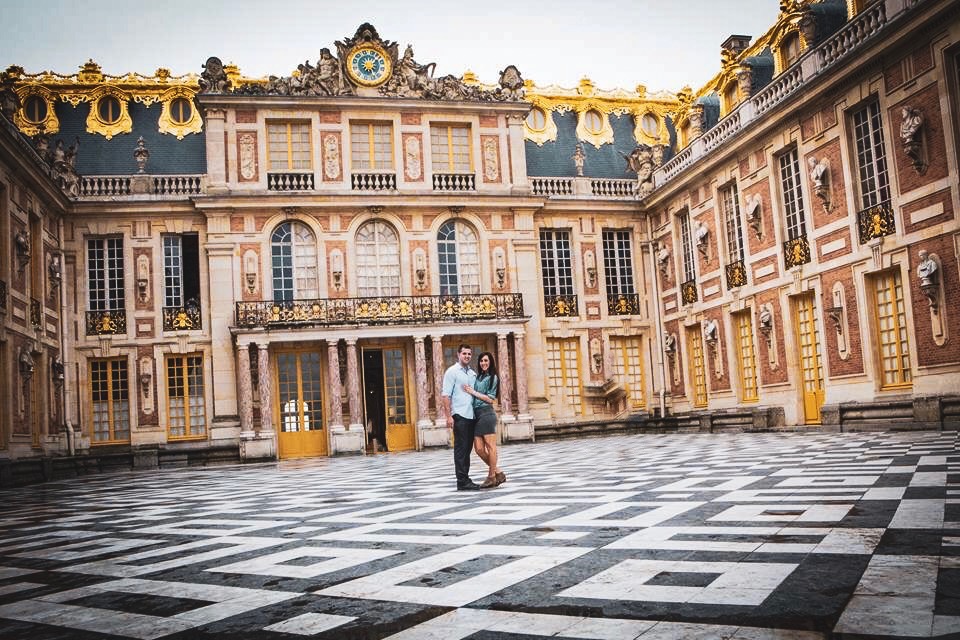 Travel Tips in Paris:
Electronics Voltage in Paris is 220. (America runs on 110)
Currency in Paris is the Euro.
Learn the Language! Usually, we have no problem finding someone that speaks English. That being said, a lot of French people DO speak English but they don't like to. Ryan and a cab driver had the most difficult time trying to find where we needed to go for our Airbnb. Finally we pay the cab and tipped him and BOOM suddenly the main spoke perfect English? Wait what? Always start with asking "parlez vous anglais" which is Do you Speak English in French, Instead of just saying it in English.
Save money by buying stuff at the local stores instead of restaurants. Our favorite foods we ate were bought there!
Blend in. I am all for being the proud American in which I am. But I wasn't running down the street yelling it. Not everyone in France likes Americans. Style wise, try to blend in a bit. People in the world are too crazy now a days, and does the reward outweigh the risk?
Look into the Paris Pass to save time and money visiting sites.
Tipping is usually put right into your bill.
__________
Europe is NOT the United State! If your'e an American like us:
Leave the baseball hat at home
Wear a more fashion forward shoe when walking around. A "gym sneaker" while not in the gym is a dead give away as an American and can make you a target.
Remember that just because it is different than the states, does not make Europe any less advanced of a country.
Food is made their way, not your way…..your'e in their country!
Remember to get a voltage adapter or compatible electronics.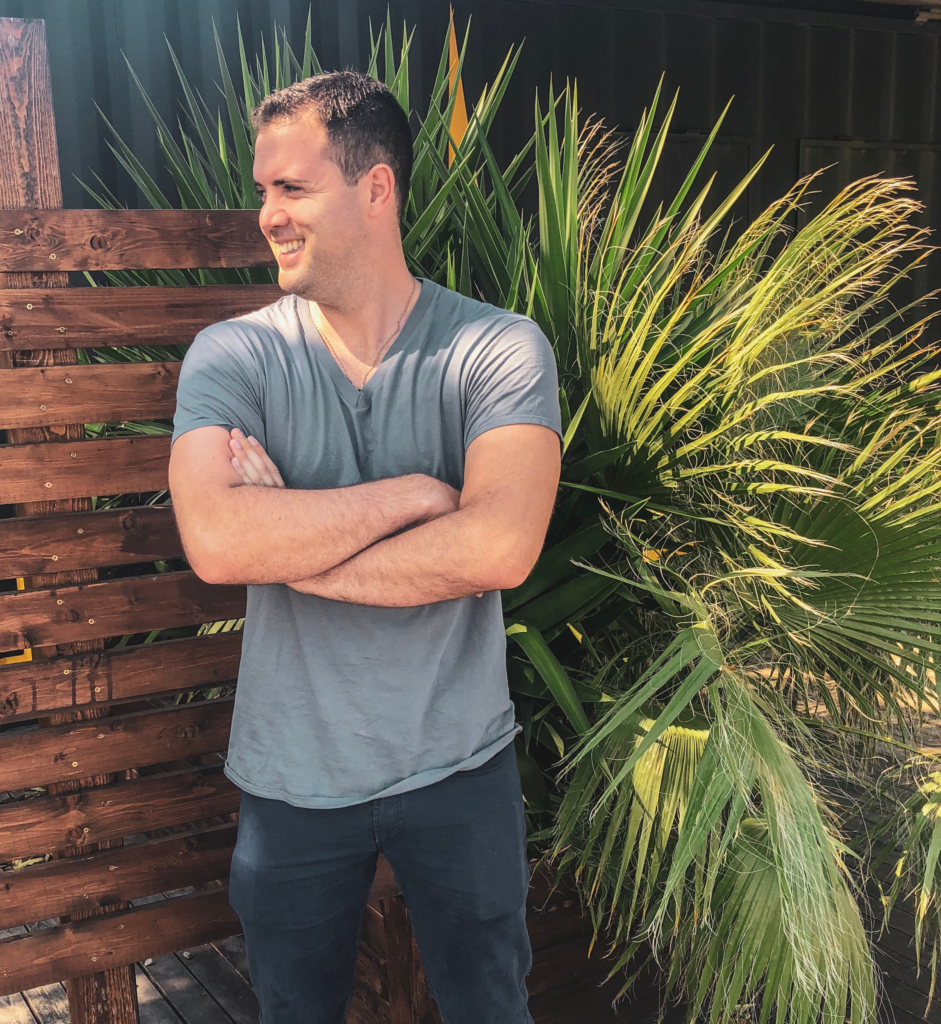 "It was a moment of clarity and excitement you experience standing in front of an icon you have seen your whole life. It made us both feel grateful and excited to be standing in front of it. What better way to celebrate it then take 100 of the most basic selfies know to mankind with the tower behind us."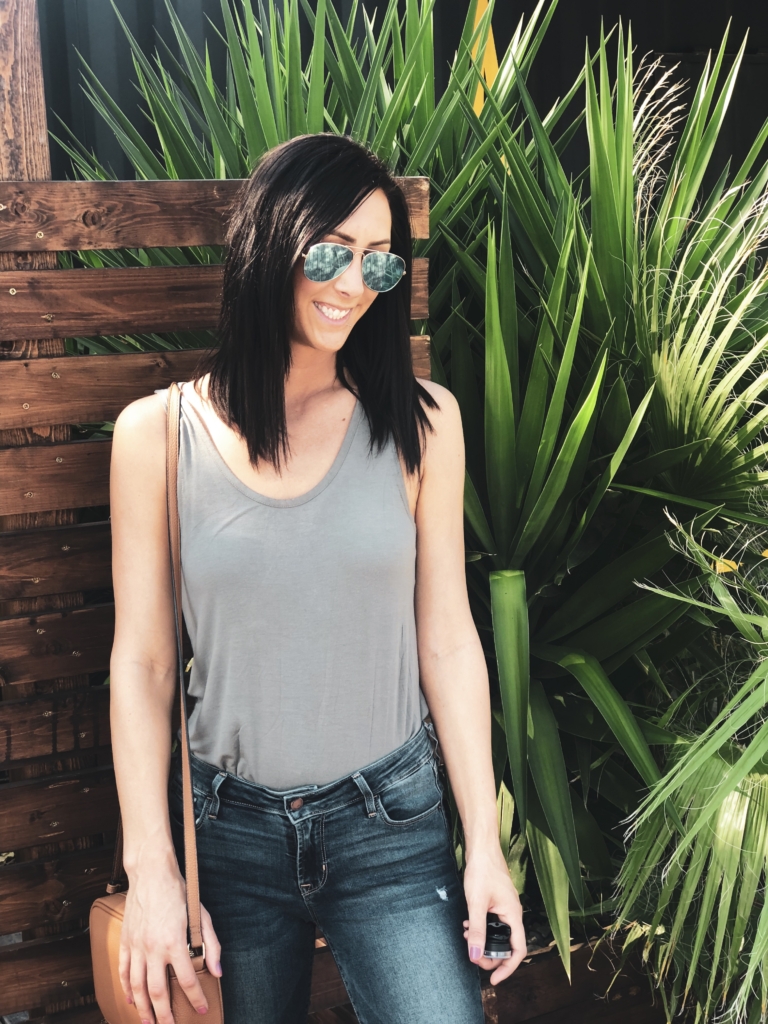 "We were soaked when we finally got into the Louvre 3 hours later. Yes, we waited 3 hours in the rain, because how many times in life will we be in Paris right? Turns out, we both have no interest in art."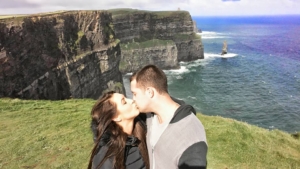 Our love for adventure brought us together, but our views of the world, and similar goals in life, will keep us enjoying each day together, for the rest of our lives. Here's to a lifetime of adventures!
This error message is only visible to WordPress admins
Error: API requests are being delayed for this account. New posts will not be retrieved.
Log in as an administrator and view the Instagram Feed settings page for more details.