M

ontreal is one of those places that has something for everyone. You can't say that about everywhere. It's a bit hippy, a bit classy, and a bit middle class all at the same time. While they are known for their bagels, we found that all the food in general was amazing, and the french atmosphere surrounding it made for a must go again, type of trip.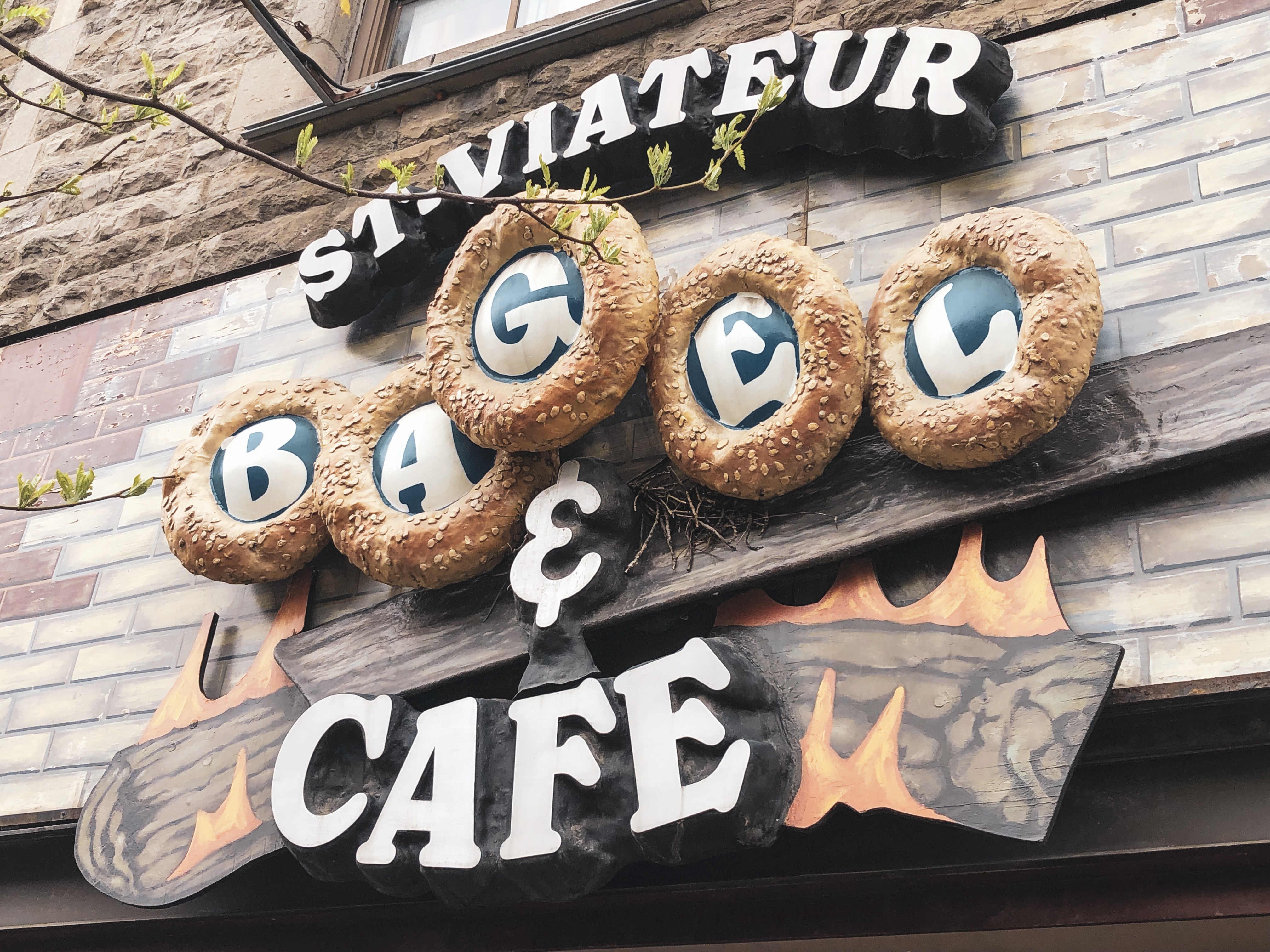 Best Food in Montreal:
Poutine: It's a canadian staple! While we have both had this is the past (pre-vegetarian days) we did not have it in Montreal because the gravy is made with beef stock. That being said we needed to put it on here because Hockey and Poutine is basically what Canada is known for. It is basically french fries, brown gravy, and cheese curds. Ryan and I both chalk it up to being just okay, but then again maybe we just didn't have it from a good place? If you know or any good veg friendly putine places, let us know!! If you are cool with the beef stock gravy, we recommend trying at least once, because when in Rome! or Montreal…. 
Bagels: This is what Montreal in general is known for. It is basically a rivalry in the city of who makes the best bagels. The two most famous places being St. Viateur Cafe and Fairmount. We went to St. Viateur but not the other. We also hit up La Fabrique De Bagel.
         St. Viateur: There was a massive line out the door! Most of it were for people waiting to get a table but we still waited about 7-10 minutes to get to the counter to order to go. It was a definite tourist spot as people were taking photos with the sign. We got the rosemary and sea salt and the multigrain bagel. Being completely honest the multigrain wasn't very good at all, but the rosemary was out of this world. Once of the best bagels I've ever had. Unfortunately they didn't have homemade cream cheeses or a ton of different cream cheeses to begin with, so I was a bit disappointed in the entire experience. They actually did not put the cream cheese on your bagel, you bought a tub of it to spread on yourself. (we did this all through take out so I'm not sure how this would have differed to to it sit down style.) All in all if I went again, I would try eating in and see if that changed my thoughts.
La Fabrique De Bagel: This bagel set up was more up my alley. You had a good choice in bagels and lots of different cream cheese bagels which they toasted and put together for you. Ryan got an everything bagel with jalapeno cream cheese, and I got a sesame bagel with garlic and herb cream cheese. Over all the bagels itself were decent but it was the cream was amazing!
Arepera: Traditional Venezuelan food in The Plateau district. This was our first stop when arriving to our Airbnb because it was literally one building down and we wanted to "try something we'd never had before" We went in not knowing anything about Venezuelan food and to add to it, most of the menu wasn't in English. We spotted out the word "Vegetarian" and just picked two random things from there not knowing what was going to come. It was delicious! We got Areperas which are sorta like small pitas filled with stuff. Ours happen to be plantains, black beans and feta, then avocado and some sort of cheese. We also found out the entire restaurant is gluten free! All in all we loved the whole experience and would definitely recommend!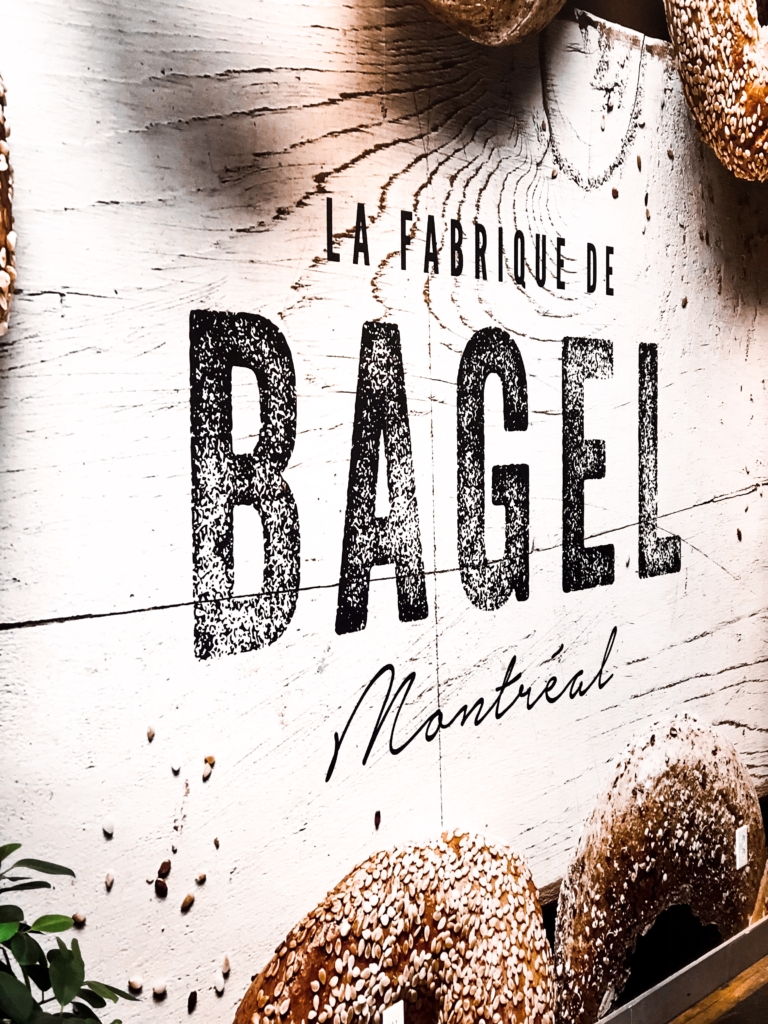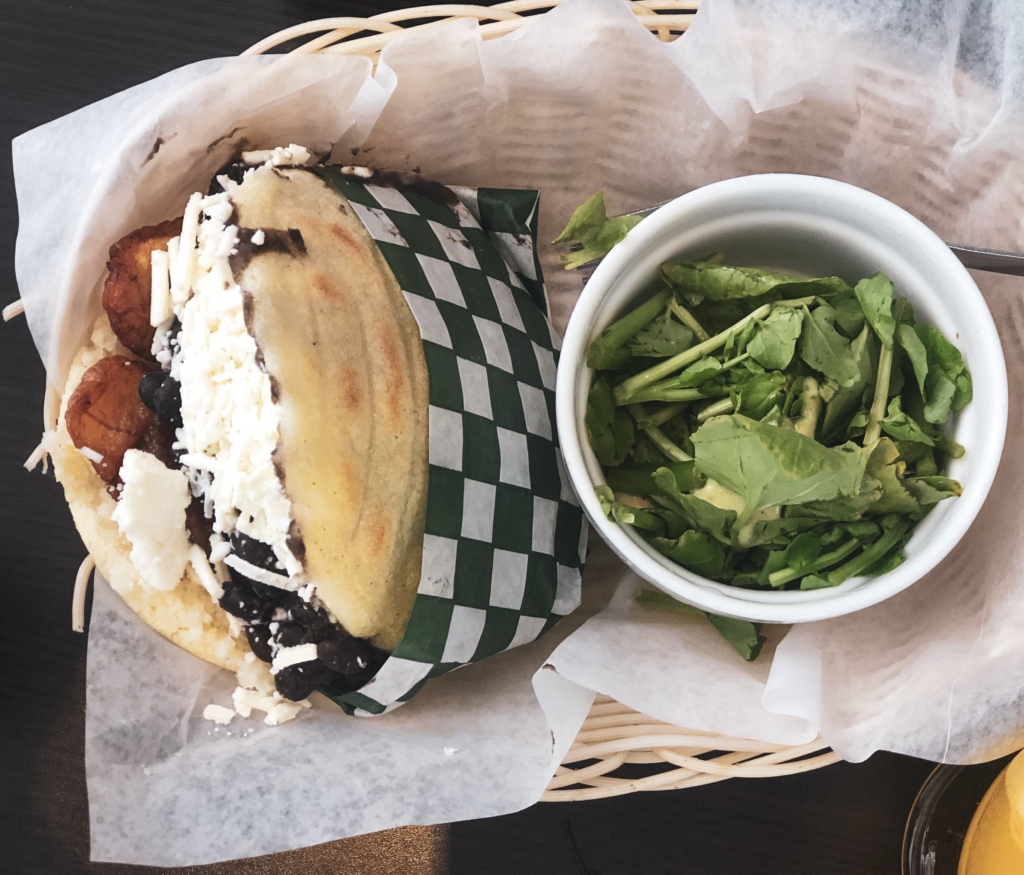 Carlos and Pepe's Mexican: You're traditional Mexican restaurant!  Here's our breakdown: Salsa was good, not spicy, but a tad smokey tasting. ONE OF THE BEST GUACAMOLE'S WE HAVE EVER HAD. So creamy, just so so good. Ryan got some jalapeno Mac and Cheese (like who ever gets that at a Mexican restaurant? Boy, bye.) and said it was pretty good, and my veggie fajitas were pretty good as well. Go here mainly for the Guac.
Juliette & Chocolat: WE CAN NOT STRESS THIS ENOUGH…..YOU MUST GO HERE. There is a few around the city but we went the the one in The Plateau district since that's where we were staying. On our first day we got Nos Pop Stars to go, and just guessed while ordering because the to-go menu was in French, They are ice cream popsicles / ice cream on a stick….whatever you want to call them. Delicious tho! The nutella ice cream in the "ElPop John" will tickle your fancy, I can promise you that. Oh and come to find out there's and English menu to look at so just ask them at the counter. On our last day we went at night and got dinner crepes which were surprisingly, extremely filling. Honestly, right after we ordered we said to each other, "so where do you want to go to eat after this?" thinking a crepe wouldn't feed our starving souls. WRONG. We did not need desert but hey! when in Rome…or Montreal. (see a theme going here?) We got the Fondue to share with white chocolate and milk chocolate. It was massive and we couldn't finish it. The brownies and waffles that came with it were so tasty I dream about them to this day.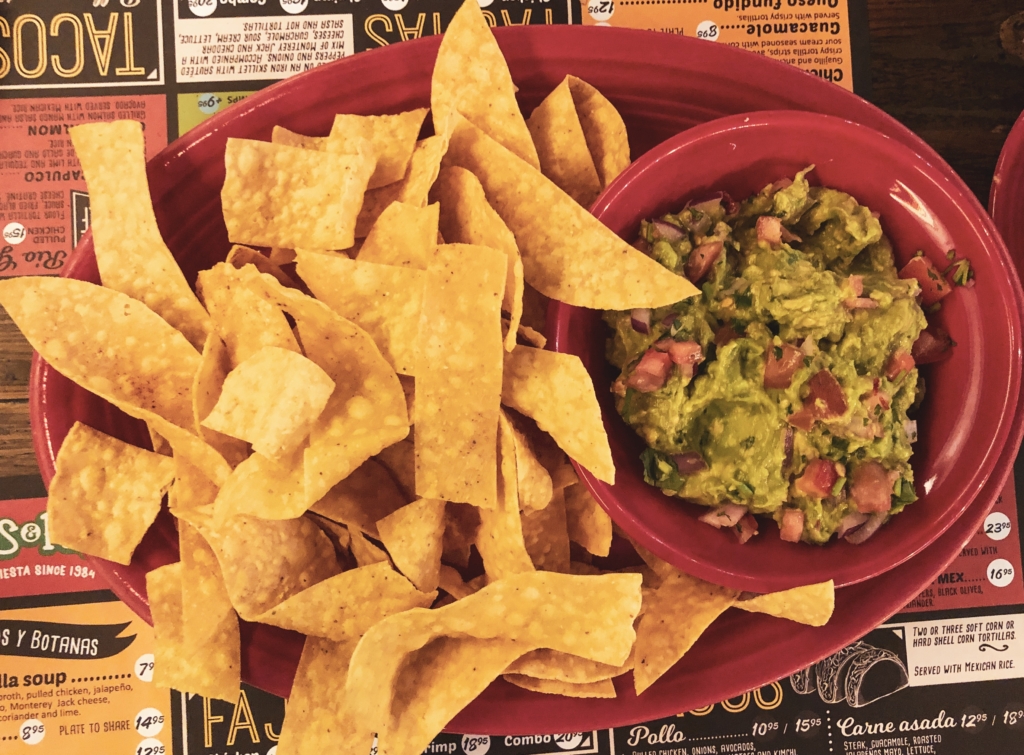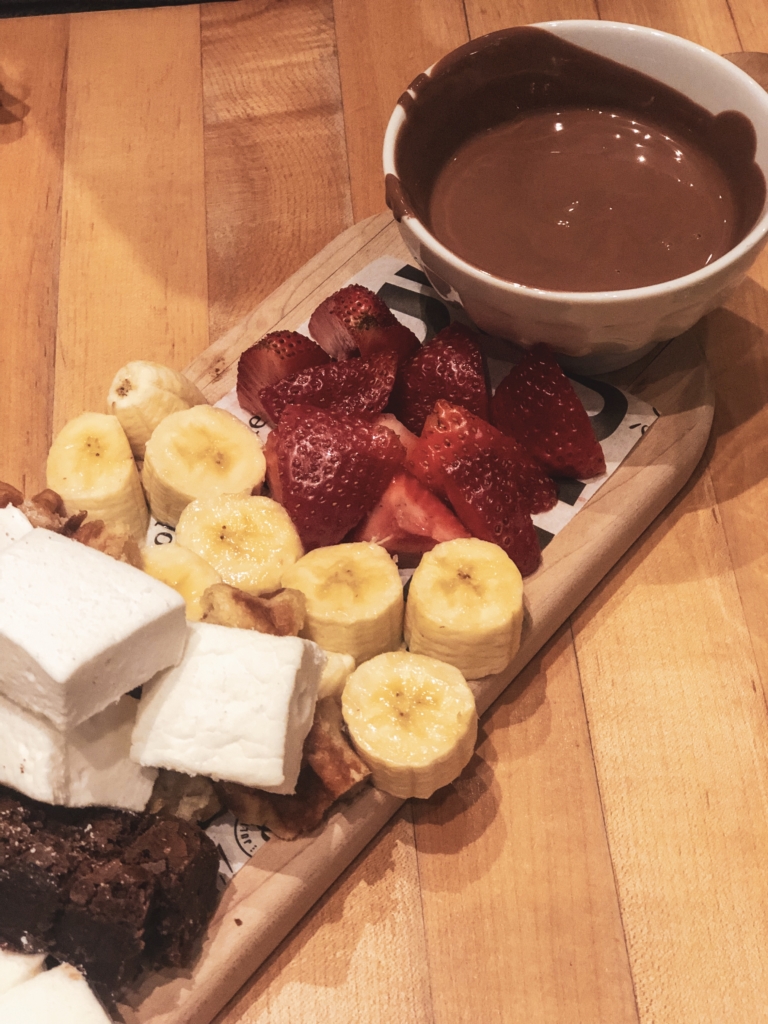 Coffee Shops: Montreal has a ton of good ones! We loved both of these: Brulerie St. Denis and Nous Sommes Cafe in The Pleteau.
           Brulerie St. Dennis: A decent sized coffee shop with lots of tables to sit at and numerous different kinds of coffee from all over the world. It had great Google ratings which is why we went and it was well deserved. It was quite busy but the service was great.
   Nous Sommes Cafe: In the Plateau district and right across from our Airbnb. A tiny but very stylish cafe with a very sweet owner. Although it is small, if you're creative, there's a few corners that are pretty Instagram worthy.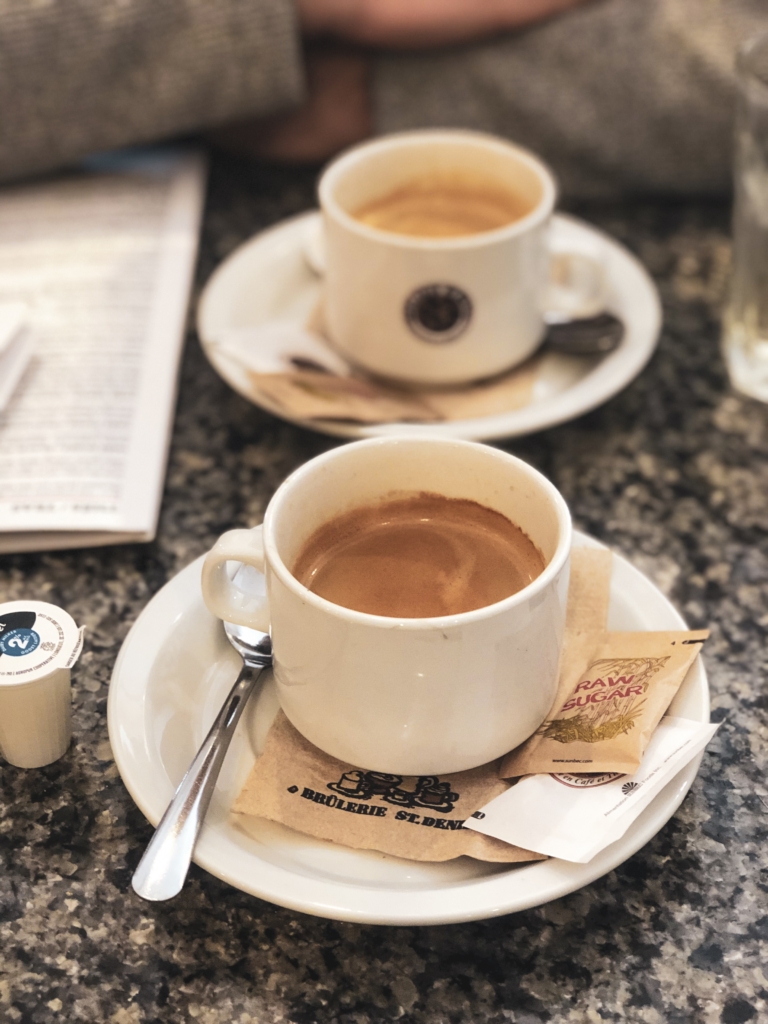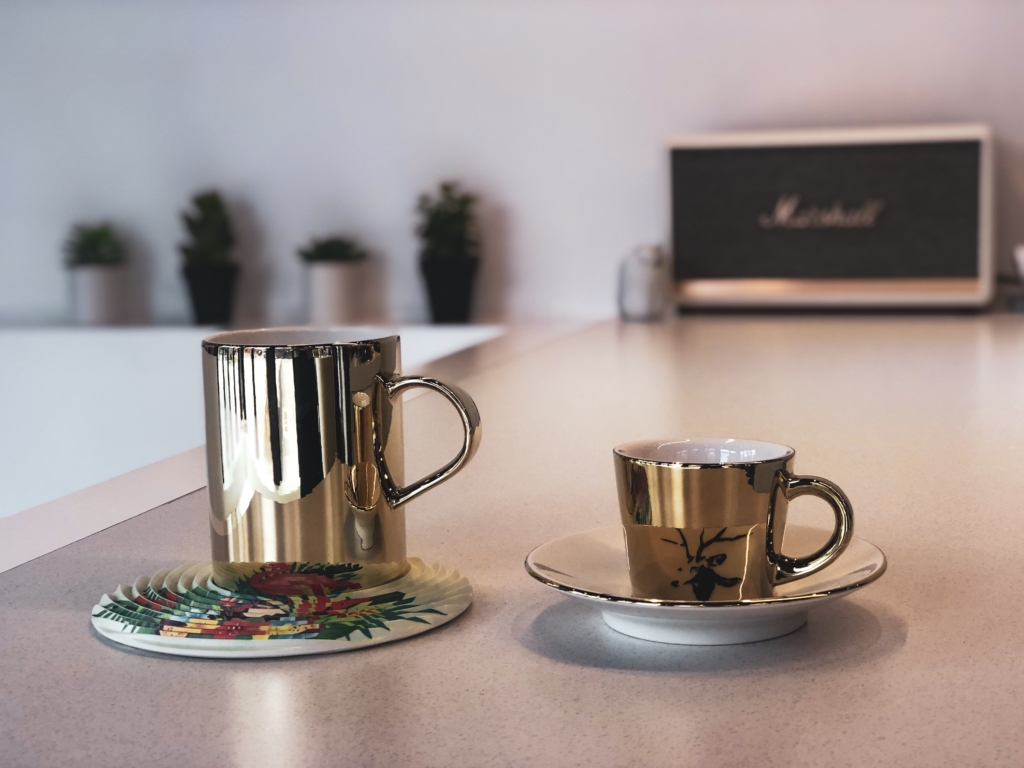 Where to Stay in Montreal:
Depending on where you stay in Montreal it will highly determine the experience you will have in this great city. If you are looking for the more touristy quick weekend in Montreal I would recommend the Saint Catherine area. It is full of shopping, restaurants, bars and pretty much anything you could hope to find in a major city will be in the Saint Catherine area, here you will find all of your chain store & restaurants giant bars and clubs, huge night life and crowd sizes similar to NYC.
Then there is the more authentic French-Canadian area in the Saint Laurent borough, this will contain some great restaurants, history field old buildings, great unique bars and shopping and more picturesque area. There are many local owned and operated destinations that will give you the more authentic experience that Montreal has to offer, not to mention some of the best bagels on earth. The Saint Laurent area is also filled with many parks that host a number of different events so no matter when you go you are sure to run into some sort of festival or event.
_______________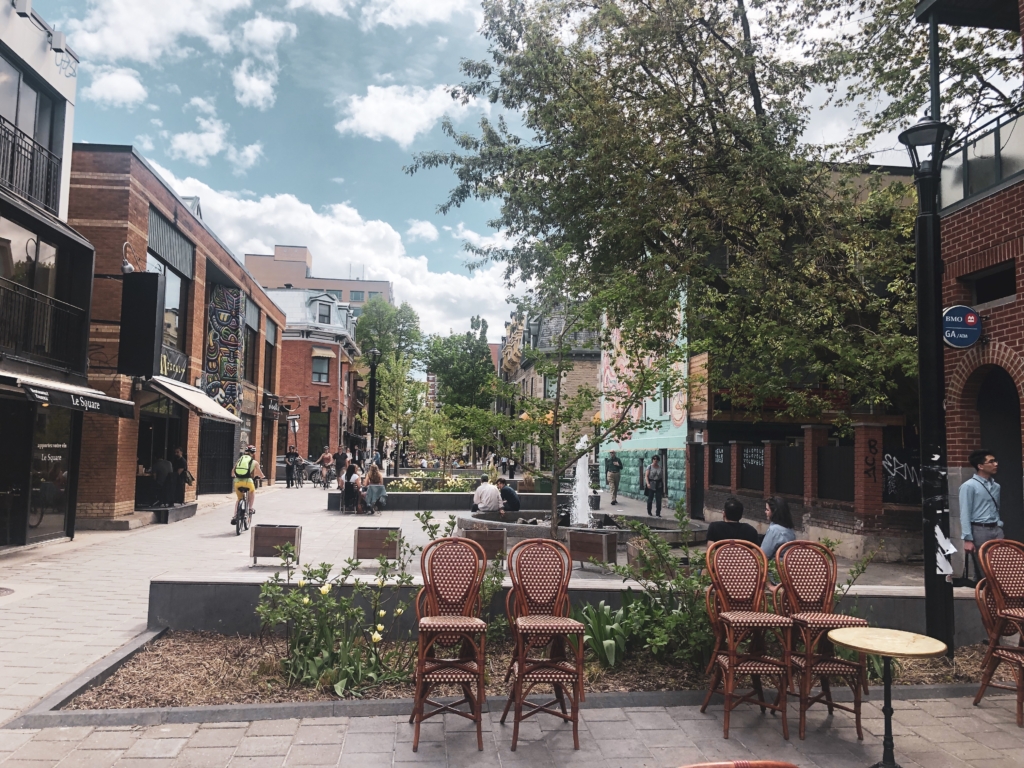 How to Travel in Montreal:
Since we are from Upstate NY, we live pretty close to the Canadian boarder and its very common to go back and forth! It was about a 5 hour drive from where we live to Montreal. If you plan to fly into Montréal-Trudeau airport, there are a few ways to get into the city, which is about 13 miles away. Once you are in the city, it is quite walkable but you still may grab an Uber or a bike to get around.
-The 747 bus run 24/7 from the airport and into the city! The most famous street that would put you downtown is St. Catherine.
-UBER. Although Montreal is very walk able, it is quite a large city. When we went from St. Catherines back to our Airbnb in The Plateau district we considered that Uber worthy.
– BIXI BIKE RENTAL. In numerous spots around the city there is bike stations to quickly rent a bike at and drop it off and a different station. We downloaded and rented right from the app as well as doing it right at the station and swiping a credit card. On Sundays they offer you first half hour for free and after that its pretty cheap.
Is It Safe in Montreal:
We would consider Canada extremely safe. There's not too many areas in the entire country that I couldn't feel comfortable walking around in during the day. As with literally anywhere in the world, I would exercise extra caution when walking alone at night time. I don't know of any place that I would recommend you stay away from because it's "sketchy" but just use common sense and you will be fine.
According to the United States Gov Travel, Canada is listed as a Level 1 in Safety. (Click here to learn more.)
*With all that being said: you are still in a foreign country, there is increased terrorism in the world today, and tourist in general are known to be targeted in any country. To keep yourself safe always beware of large crowds, beware of groups coming up to you trying to get a petition signed, keep your money and valuables hidden from pick pocketers, split your money up so it is not all in one locations, have copies your passports both at home and with you. With any serious concern contact your countries embassy.*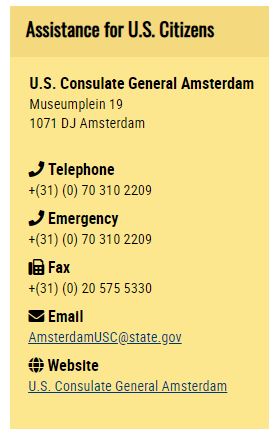 Things to do in Montreal:
Hike Mount Royal- I'll use the term "hike" loosely on this one. I came prepared with leggings and Nike sneakers (as if that's not already my usually outfit ha!) and I am pretty sure I saw a lady in Heels. While I don't recommend the heels, its probably a Level 1 on the hike difficulty. It is a quick 30-45 minutes but the views are beautiful! You can see over the entire city of Montreal. Parking is plentiful and right by the base of the trail, but it is paid parking. Cheap tho. There's a beautiful park at the bottom that is a great area to relax and read, or a family picnic.
Underground City- This is exactly what it sounds like! A collection of over 1500 stores, offices, and hotels, most of which are underground (or some ground level). It stretches about 20 miles and residents of Montreal use it in the winter to avoid walking outside in the bitter cold. This is a must see for anyone but especially those who love to shop OR those traveling to Montreal in the Winter.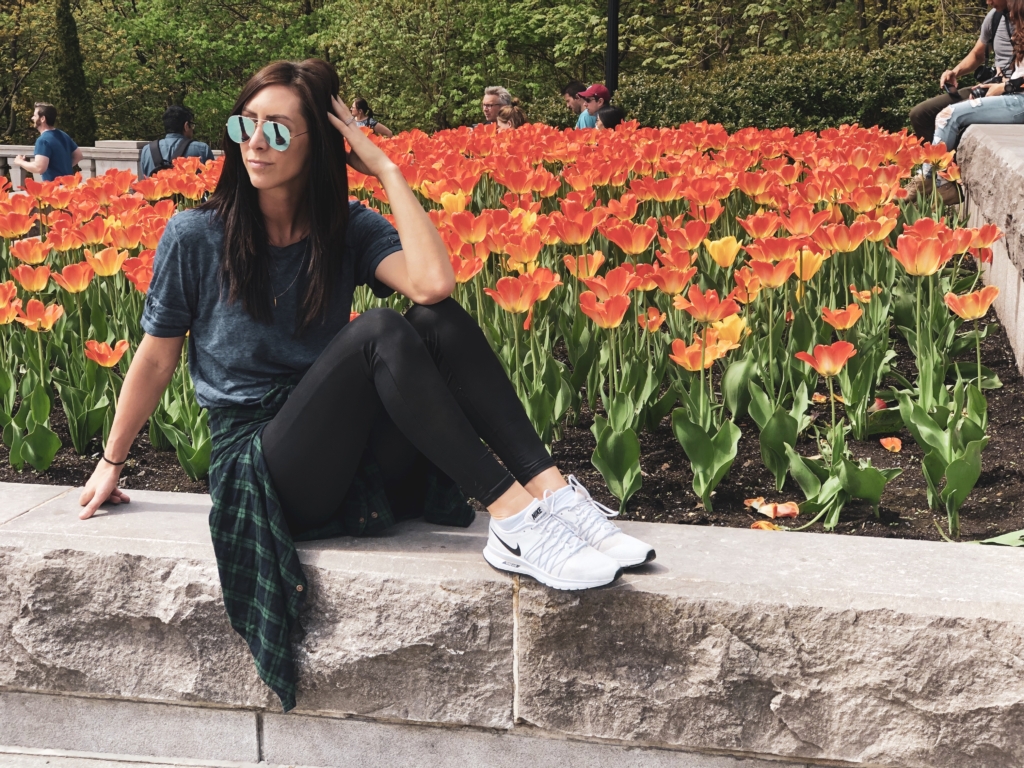 Rent Bikes- Just like I mentioned in How To Travel In Montreal, you can rent Bixi Bikes! They are the perfect activity to just cruise around the city and see the sights. The city is bike friendly and you will see numerous bikers and bike lanes on the roads. You don't have to be Lance Armstrong to rent one. I think it had been over 15 years since I had rode a bike (not counting an awful attempt at spin class!) and I hopping right on and pulled into traffic without a care in the world. OK so the first 5 minutes I kept yelling "I don't remember how to do this!" but it was honestly a blast.
Bars: Montreal has a great night life scene. We saw clubs open and busy on a Sunday night as well as bar being packed till closing on both Saturday and Sunday nights. I would believe it is ever more busy during the school year as Mcgill University is right in that area.
Mckibbins: If you've read literally any other blogs of ours you'll know that we find a Irish pub everywhere we go. This one did not disappoint in the beer/cider selection! Had people of every age so we fit right in.  I would have preferred some live Irish music, but it was good people and good service so it is a thumbs up for me.
El Furniture Warehouse: A younger crowd for sure. If it wasn't for the drinks easing our mind we would have felt a bit out of place. (30 and married compared to 18-25 and still in their party phase.) All in all we had fun, it had great music and the drinks were flowing. We scarfed down some Mac and cheese and it was decent, but stick with the drinks there and you'll be golden.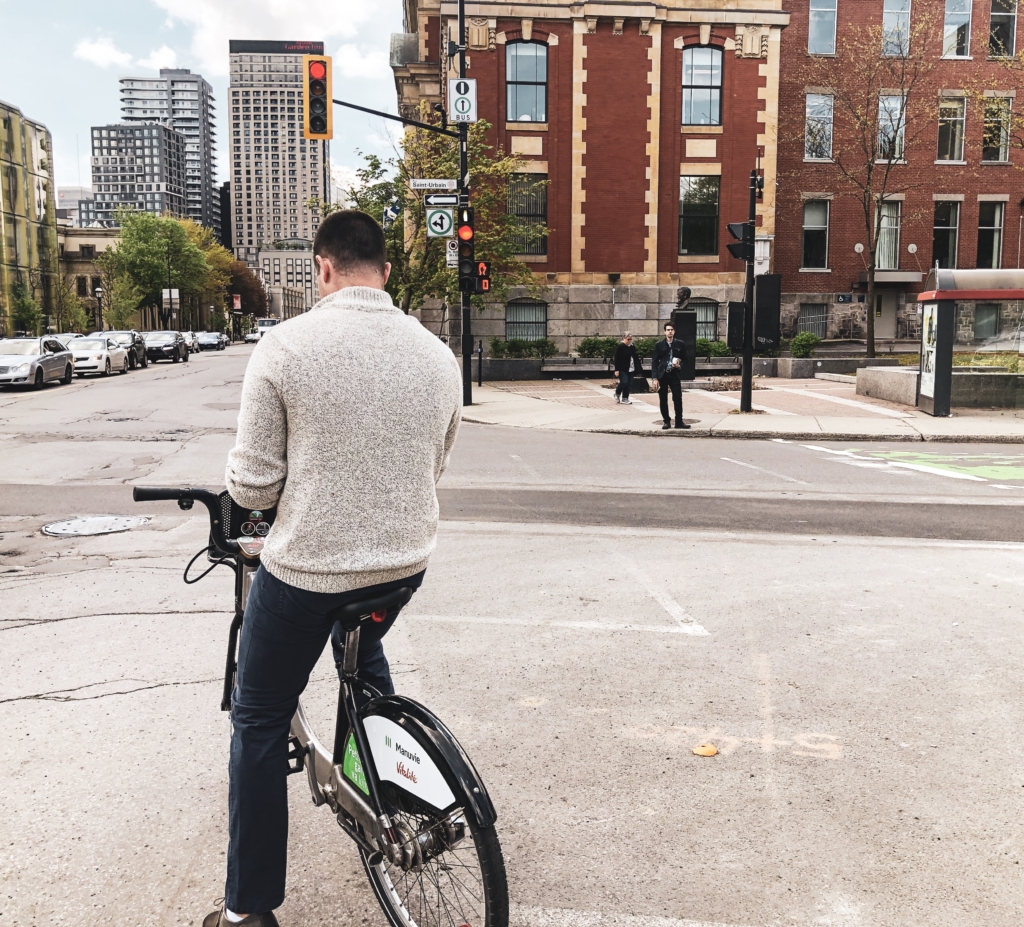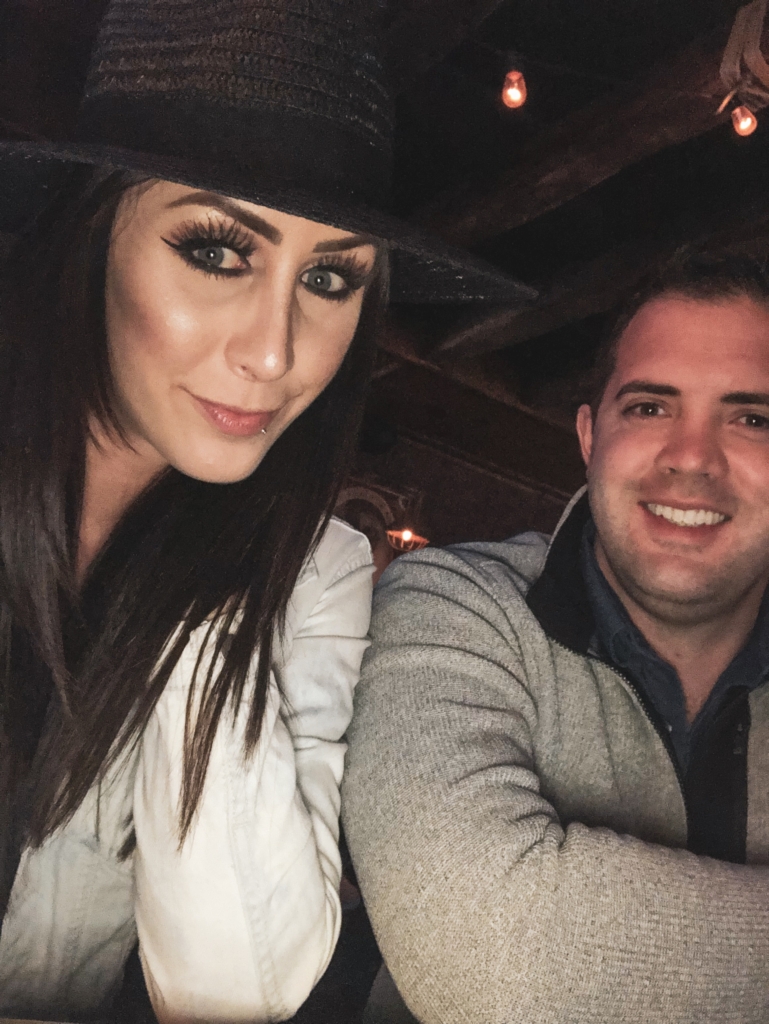 Visit Basilica Notre Dame: Built in the 1600's it is Montreal's oldest Catholic Church. The cost is $8 Canadian. Make sure you have it in Canadian or they will charge you $8 usd and not honor the exchange rate.
Summer Music Festivals: There are MULTIPLE music fests going on all the time, all around Montreal in the summer. You will likely stumble into some while just exploring if you are there during the season. When in doubt, google the weekend you are going and the exact times and locations will come up!
St Catherine's Street Shopping:  aka Rue Sainte Catherine. This is THE PLACE to shop in Montreal. There is 3 malls on this strip along with tons of street shops to walk into. If you go at the correct time you can get amazing deals with the Canadian exchange rate. Everything we bought we basically received "30% off" due to the exchange rate. If you're planning a shopping haul, I would definitely give your self half a day or more to explore this area!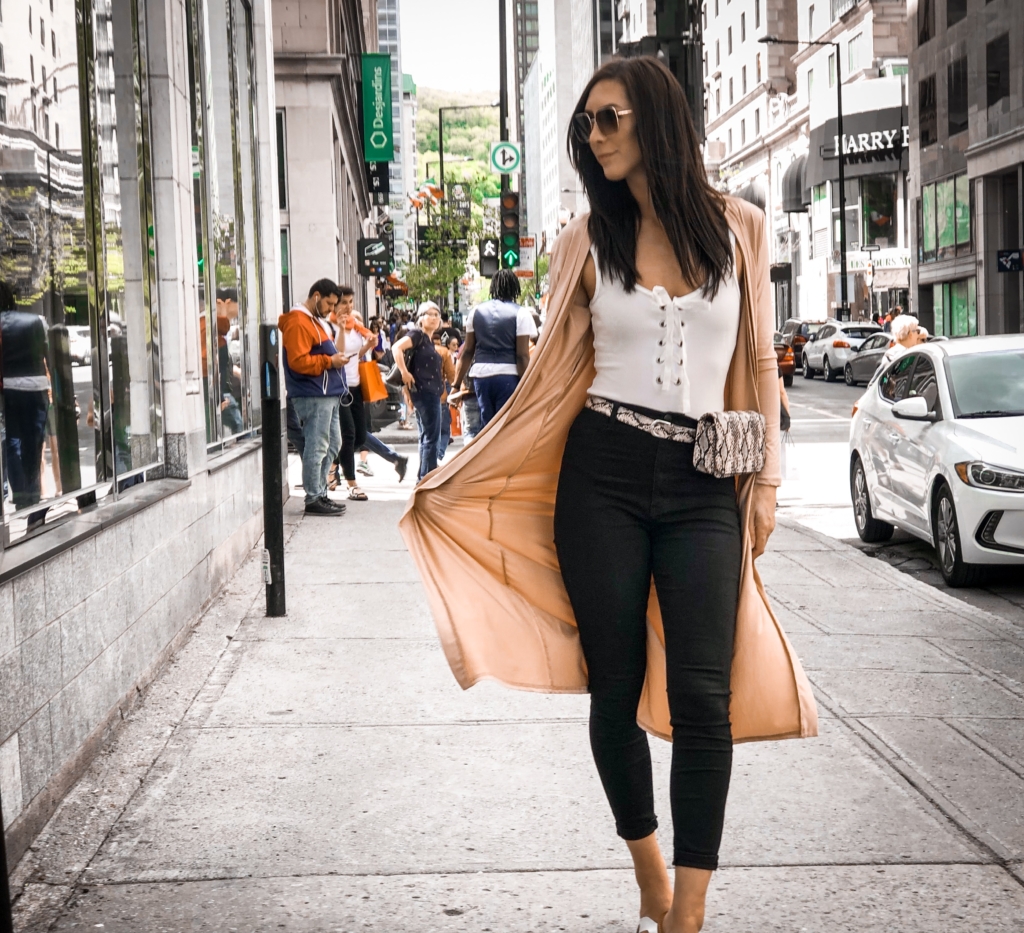 Travel Tips in Montreal:
The official language of Montreal is French! Although you will find a pretty heavy split of most things being in English, and 90% of people being bilingual. (whether they will speak English to you or not is another story)
Know the exchange rate before you go and take advantage of it.
Tipping is expected in Canada, as in the US. It is about 15-20%
If you are American:
If you have a GLOBAL ENTRY CARD you get get back into the United States using the NEXUS LANE. Only coming back in to the United States. Do not try to use to going into Canada, there is a heavy fine and a long search if you end up in that lane.
Turn your airplane mode on! Although your phone will still have service, you will most likely be roaming. (unless your phone plan allows for Canadian calls) This is a good way to have your bill jacked up and costing more than your entire trip to Montreal.
Remember when you could get across the boarder with just a I.D and birth certificate? (Upstate NYers definitely remember this!) well that's no longer. Either  a NEXUS Card, Enhanced license, or Passport is needed. A passport is needed for air travel**